2020 has been a challenging year for everyone, and puts into perspective the isolation and hurdles patients and families face throughout their lives.
Parents Tamara and Grant know all too well the impact your donations can have at Sydney Children's Hospital, Randwick and The Children's Hospital at Westmead. Their little boys Bryson and Ryder have both received life-saving surgery on two separate occasions.
Their first experience was with their older son Bryson, at just two and a half years old. After a sudden change in his behaviour, dramatic weight loss and cross-eyed vision, Tamara's local GP organised an emergency consultation with an eye doctor at Westmead.
It was only hours later, and just five days before his third birthday, that their heart-breaking and roller-coaster journey began. A tumour the size of a tennis ball was found in Bryson's brain on the cerebellum – the part that coordinates motor skills like walking.
"Like any parent, I kept thinking you shouldn't be going through this. I'm grown. I'm bigger, I'm stronger. This is mine. Just make it come to me. I can deal with this…he's too little."

Tamara
Mum
In their time of need, surgeon Dr. Mark Dexter and his specialist team stepped in and removed the whole tumour in under five hours. Although the surgery was extremely risky, his mum and dad knew their son was in the best possible hands, thanks to donors like you.
One and a half years later, after six months of tough chemotherapy and countless nights spent in hospital, Bryson officially earned the title 'proud big brother' to Ryder. Born prematurely at just 30 weeks old, Ryder couldn't wait any longer to enter this world.
What was supposed to be a happy period in the lives' ended in another health crisis. Devastatingly, baby Ryder developed a life-threatening infection and had to be transported immediately to Randwick, where he too needed urgent brain surgery to remove a ruptured abscess. He was still eight weeks premature.
Once again, Grant and Tamara felt helpless as another of their children was in surgery, but this time, at Randwick under the amazing care of Dr. Erica Jacobson.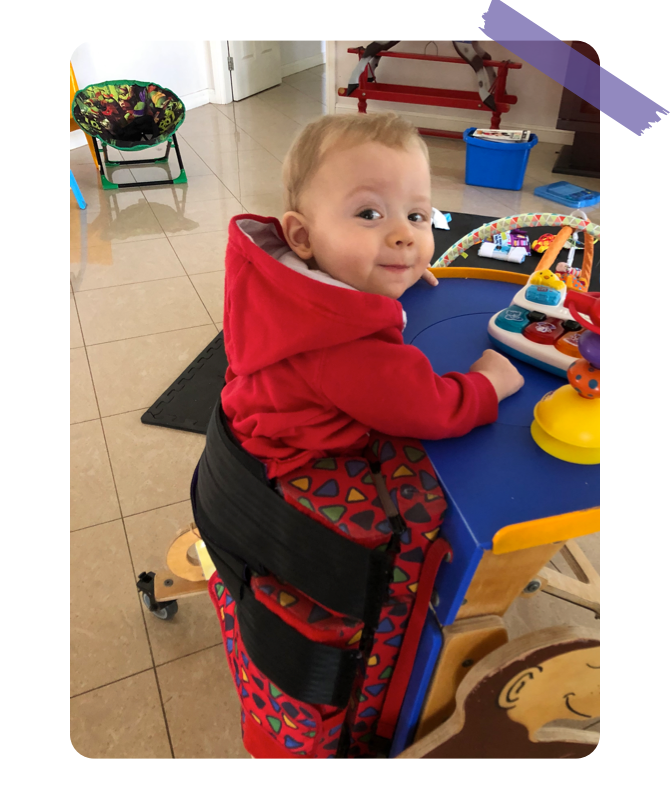 Against all of the odds, Ryder made it through. Dr, Jacobson shares, "Ryder's chance of survival was only 30%. His infection caused an abscess which is like a little sack filled with pus. That abscess had burst, so he was really sick and had at a very high risk of dying."
Ryder's first surgery was only one of 13. To help clear the infection, Dr. Jacobson had to insert, and constantly adjust, three permanent shunts into his brain to help prevent build-up of fluid. For Dr. Jacobson, let alone his parents, managing Ryder's condition was extremely challenging.
It's no surprise after two and a half years of consults, countless phone calls and friendly conversations, Tamara will always call Erica her 'guardian angel' and a 'permanent member of the family.'
Tamara says, "I owe my life to Dr. Mark Dexter, Dr. Erica Jacobson and all of the staff at both hospitals. Without them, my boys wouldn't be here today.
"While Bryson and Ryder were in hospital, I knew whenever I needed a break, they were there caring for my children just like I would. These hospitals are like family. Every time we go and visit them, we pop in and say hello to our wards. They know us by name and face."
Although Bryson and Ryder will always live with the side effects of their brain injuries, their family continue to celebrate each milestone together. Despite having to overcome so many hurdles, today Tamara and Grant have decided to share their story in hope it will inspire donors like you, to give other kids a fighting chance too.
This year Christmas brings...
"This year I'll be celebrating Christmas surrounded by my kids and that's all I need. All four of them are the best present I could ever ask for. I hope by sharing our story, another family can spend their Christmas at home too." Tamara, Bryson and Ryder's Mum.
To help light up their Xmas, donate to our Appeal today and give kids like Bryson and Ryder an extra helping hand.