Spotting sparkling Christmas lights, spending quality time together and celebrating a very special second birthday. That is how this family of five will get to spend this Christmas, thanks to the life-saving care they received from Sydney Children's Hospitals Network.  

When Amanda and Michael first met, they could have never believed in their wildest dreams that they would need to call on the support of the Newborn and paediatric Emergency Transport Service (NETS) not once but twice in their lifetime for their critically unwell babies. But thanks to the expert support of these teams, today, they have a happy, healthy little family that is ready to celebrate a very special Christmas.  

Amanda's pregnancy with Koby was a dream come true with no issues leading into the big day, which made the moments that followed all the more surprising.  

"At first, he just wasn't very interested in feeding and had noisy breathing, but I had a gut feeling something wasn't right. We got moved into a special room, and that's when they realised he was really struggling to breathe," explained Koby's mum, Amanda.  

After assessing the situation, the Newborn and paediatric Emergency Transport Service (NETS) was called in to provide Koby with the best possible care and safely transport him to a larger hospital.  

When Koby arrived at the hospital, they discovered he had suffered three mini-strokes and had a blood infection, so they began treatment immediately.  

"I never expected for my first child to be pacing the hallways of a hospital, not knowing if he was going to be with us," explained Koby's dad, Michael.
Koby spent the next few weeks in hospital hooked up to a highly specialised Continuous Positive Airway Pressure (CPAP) machine to support his breathing and feeding through a tube with no confirmation on how the strokes and infection might impact his development. 

"I remember trying to stay strong next to him but walking down the hallways, bawling my eyes out, just trying to get a grasp on the situation."  

As a result of his condition, Koby was closely monitored for the first two years of his life to ensure his rocky start to life hadn't led to life-long implications. Thankfully, little Koby was a fighter and managed to kick every goal and milestone he came up against.  

"You know, we often hear about people going through the terrible twos or threes, and you know, we've said countless times how blessed and lucky we are, but maybe because he put us through so much stress in his first few weeks of life, he's rewarded us with honestly the best kid. He's just an absolute angel. You can really tell he's proud to be here."  

When their next child came along, they believed they were ready for anything after the experience with Koby, but one thing no parent can ever prepare for is witnessing the moment their baby stops breathing.  

"Because of what happened with Koby, we decided to be more prepared just in case something did go wrong, and when Cooper arrived, it was like the worst case of déjà vu."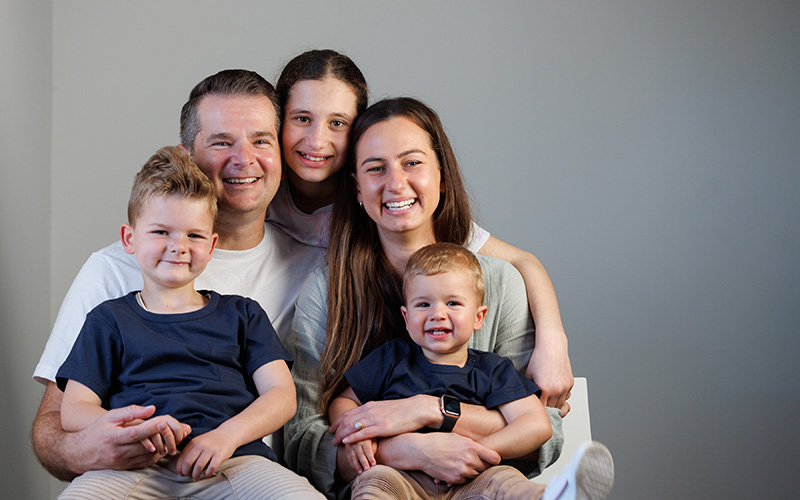 As a result of Koby's experience, Cooper was going to be in Special Care for the first 24 hours of life just in case anything went wrong. By the time they made it up to Special Care, they heard the same breathing noise they had heard with Koby.  

"At this point, we just started to wonder why us, why me, is he going to be okay? This can't be happening again…" 

Cooper was placed on a CPAP machine to assist with his breathing, but the support wasn't enough, and the clinical teams needed to take immediate action.  

"They were worried that he was going to give up because he was working so hard on breathing, so they consulted NETS and decided they needed to perform a procedure to help strengthen his lungs," recalled Amanda.  

As it was Christmas Eve, Michael was at home with the other two kids, excited for Santa to arrive when the hospital made the difficult decision to operate.  

"He was doing a lot better after the procedure, and I thought, you know what, this is really good, he's doing really well, and then I looked over at him and his chest just stopped moving." 

The monitors confirmed Amanda's worst fear: Cooper had stopped breathing.  

"The doctors began CPR for what a really long time, and then I heard one of the doctors say we're going to call time, and I thought, that's it, we've lost him." 

While the next few moments felt like hours for Amanda, the doctors finally found a pulse. Little Cooper was still alive, but his condition was critical, so the NETS team were called for an urgent helicopter retrieval. 

Unfortunately, the fight wasn't over for little Cooper, and he went into respiratory distress again as they were waiting for NETS to arrive. After another round of CPR, the team decided it was time to intubate him and take over his breathing until NETS arrived.
"I can't even describe the feeling of relief when they arrived. I felt like, you know, if we've got a chance, they're going to be the people that are going to save him." 

By the time the NETS team were able to stabilise Cooper enough to get him into the helicopter, it was 5 am Christmas morning and Katelyn, the NETS nurse, described the trip as Cooper's first sleigh ride.  

"It brought a smile to my face knowing that it was Christmas, and I looked out the window and imagined Santa on his sleigh, and it helped, it really helped." 

Thanks to the extraordinary care Cooper received in those crucial hours, he was stable and healthy enough to be transferred back to his local hospital within a few days. 

"We can't thank them enough. We've said it so many times, we don't think either of them would be here if it wasn't for them. We'll forever be in debt and grateful for the NETS team."

"We now have the privilege of watching them grow, develop, explore and navigate their way through life," Michael said.
By supporting the Sydney Children's Hospitals Foundation Christmas Appeal this year, you can help give families like Koby and Coopers the brightest Christmas possible. These generous donations help provide the NETS team with state-of-the-art equipment like the Paediatric Life Support System (PLSS), which is vital to providing life-saving care to children like Cooper.

When asked if they had one message for families considering donating this Christmas, this is what Amanda and Michael said, "don't hesitate. We had no idea that this was even a thing or that they existed until we had to experience it. Help in any way you can and support a great cause."

Visit https://www.schf.org.au/xmas23 today to help ensure kids like Koby and Cooper receive the very best care whenever and wherever they need it.