Chronic conditions require life-long treatment. However, research discoveries are revealing how lifestyle and non-pharmaceutical choices might substantially delay deterioration and extend quality of life.

One example of this is Gabrielle Donlevy's job working with patients diagnosed with Charcot-Marie-Tooth disease (CMT). Dr Donlevy is a post-doctoral dietician scientist and her position, funded by Sydney Children's Hospitals Foundation, researches the role diet and body composition plays in clinical deterioration in children with Charcot-Marie-Tooth disease.

Alicia, Olivia's mum, says of CMT, "It comes with a lot of different side effects. Pain and fatigue in her legs and hands. Constant pins and needles, feeling of some sort of arthritis or juvenile arthritis."

Charcot-Marie-Tooth Disease affects nearly one in every 2,500 people, with over 250 children currently being treated for CMT at The Children's Hospital at Westmead. Symptoms of CMT include progressive muscle weakness and muscle atrophy, causing a loss of sensation in the hands and feet.

Dr Donlevy's research, in which Olivia was an active participant, explored the role of how a body's ability to breakdown and use nutrients affects the progress of deterioration in diseases with clinical neuropathy like CMT. Her research is part of a global project to understand the natural progression of paediatric CMT, resulting in clinical measurements to assess function and progress which are now used globally.

"Most people's bodies take a singular piece of food and break it down to give us nutrients and vitamins. Olivia's body doesn't tend to do this. Her body doesn't distribute food the same way that our bodies do, so a lot more is just wasted and that's why essentially her weight decreases rapidly.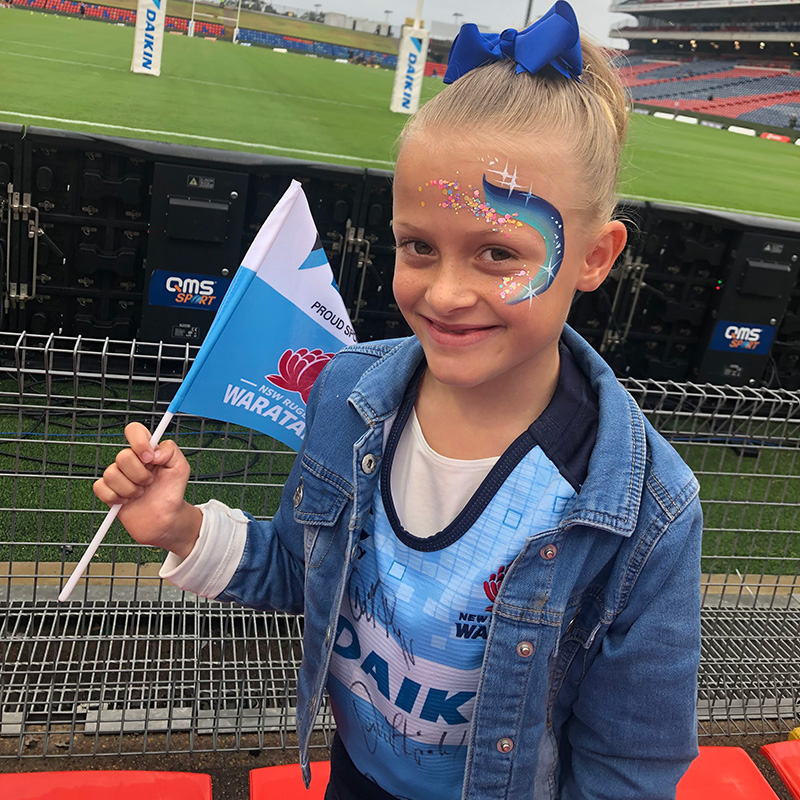 "She's using triple the amount of energy anyone else would in a given day just to get those legs moving and keeping up. So that's burning a lot of energy and food, and she doesn't hold on to all of it the way most people do," says Alicia.

Dr Donlevy has dedicated her career to research in rare diseases, and her work has shown children with CMT who are either underweight or severely overweight have faster disease progression compared to children with CMT who are at a healthy weight for their age. Her next research is focusing on improving the functional ability and quality of life for children with CMT through further understanding the role of nutrition and body composition.

"The aim of my research is to uncover a novel treatment target for children with peripheral neuropathy and pain," says Dr Donlevy.

Professor Joshua Burns is the Director of Paediatric Gait Analysis Service of New South Wales and works collaboratively with Dr Donlevy on patients like Olivia. Professor Burns runs the Gait Lab, a unique service, proudly funded through the Humpty Dumpty Foundation and Sydney Children's Hospitals Foundation, which provides 3D analysis of body movement.

"3D gait analysis provides a child with the opportunity to have the right treatment at the right time to improve their ability to walk, relieve pain and improve quality of life. 3D gait analysis helps to optimise a child's mobility and enables many to walk into adulthood.

"Given there are no disease modifying treatments or cures currently available to children with CMT, we rely on supportive treatments such as physio and OT, as well as assistive devices for walking and mobilising," says Professor Burns.
While Olivia's condition meant she had to go from a pram straight into a wheelchair, a team of doctors and researchers at The Children's Hospital at Westmead have worked to improve her quality of life and abilities. Daily physiotherapy, occupational therapy, and Ankle Foot Orthosis (AFO's) have kept muscle tone in her legs and arms as shown through assessments of The Gait Lab.

Alicia recalls how Olivia's initial assessment in The Gait Lab reminded her of a sobriety test. "There's a lot of walking in a straight line, one foot in front the other and toe to heel walking so your feet touch. Hopping on certain spots and jumping. There's also a machine they use that measure her muscle tone and body fat weight index."

"They do a lot of measurements to ensure that her legs are the same length, so her kneecaps and hips are aligned. Even measuring right down to her thumbs to check that her knuckles are virtually aligned.

Olivia has been involved in multiple research trials and is always happy to participate.

"We're passionate about being involved in research projects because it might give us more options. Moving forward, what's going to be the benefit? What's going to help them find more answers? Which ultimately benefits Liv," says Alicia.

Childhood is brief. The window of opportunity is short. To help kids like Olivia have the childhood they deserve and give them the brightest Christmas possible, donate to Sydney Children's Hospitals Foundation Christmas Appeal at www.schf.org.au/christmasappeal.