The strength beneath Durakai's superhero vest
When news breaks of a seriously injured child, it's easy to feel a burning sense of helplessness and sadness. You can't help but relate and you may even find yourself searching for a way to help.
Although you can't control these incidents, your kindness can help provide world-class care to injured kids in those crucial moments. Every child deserves access to the best possible care when or wherever they may need it.
For the close-knit community of Dubbo, its stories like Durakai's that highlight the importance of lifesaving paediatric services. In August 2020, the cheeky and active little boy was involved in a tragic dirt bike accident that left his whole town shell shocked.
"When I reached Durakai, I didn't think he was alive. I thought I had lost my boy," says Glen, Durakai's dad.
In just mere seconds, Durakai's world shifted away from football and outdoor sports to MRIs, hospital beds and vital signs monitors. Glen and Brinae's six-year-old boy was placed into an induced coma and flown over 400kms to The Children's Hospital at Westmead. There, doctors quickly discovered he had sustained a serious brain injury, ligament damage, broken arms, facial bones and legs. Luckily, he was wearing his new helmet and all his safety gear, otherwise the situation would have been much worse.
"It's still just a blur but all I can remember is my swollen little boy intubated, covered in casts and one large visor. Every day we sang twinkle twinkle little star to him, just like he did to his little sisters. And for days we waited patiently for him to wake up and sing it back," recalls Brinae, Durakai's mum.
On the second week of Durakai's fight, their brave little boy regained consciousness. It was the first step in his long journey ahead. For the next three months, Durakai's family celebrated every milestone that soon followed - his first outing to the Hospital's courtyard, his two-week reunion with his little sisters and first day at hospital school.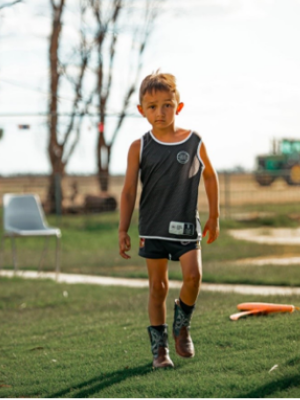 Each and every day that went past, his personality started to shine through more and more.
Now, almost five months on, Durakai is back at school in Dubbo where he belongs. Although he no longer wears his 'superhero vest,' he will forever manage the side effects of his brain injury, like a shorter attention span and behavioural issues.
"We're so proud of Durakai's progress and so grateful to those who supported us along the way. It was a bumpy road and sometimes it was hard to see the light at the end of the tunnel, but we never felt alone. We've developed such close friendships with the staff and families on the wards, they're like family," says Brinae.
This March, Brinae and Glen are sharing their son's story in hopes it will inspire supporters like you. Their little Durakai spent over 60 days in hospital. It takes just 60 second for you to help make a difference.