Little Kyah is the definition of resilience. At only five-years-old she's experienced more pain and faced more extreme challenges than most people, let alone pre-schoolers her age. In May 2021, Kyah was diagnosed with cancer, one of 133 kids to be diagnosed with the devastating disease at The Children's Hospital at Westmead's Cancer Centre for Children each year.
Just a few months earlier, Kyah was any ordinary kid – life was good. With big brother Brax by her side, together they would role play mums and dads, ride horses and spend weekends on the river tubing.
When Kyah was consistently recording high temperatures for two-and-a-half weeks, her mum Renae knew something wasn't right. Blood tests, X-Rays, MRIs, ultrasounds and a biopsy helped confirm the earth-shattering news – Kyah had a 10.5cm tumour on her adrenal gland called a Neuroblastoma.
Neuroblastomas are the most common solid tumours detected in children under five and develop when cells of the nervous system grow out of control. It is believed 40 children in Australia like Kyah are diagnosed with this type of cancer every year.
For Kyah's mum, Renae, most of that conversation was a blur. Except one thing.
"Immediately, when I heard that six letter word 'cancer' my body froze. The doctors voice suddenly felt so far away and all of my focus was on Kyah. My heart broke knowing my little girl running around the office, saying hello to everyone in her path was about to tackle the biggest fight of her life," explained Renae.
"As a mother, you just want to take their pain away. But you can't. You have to put your trust and faith into the clinician's hands."
From that point forward, Kyah's life changed, instead of playdates there were appointments and instead of sleepovers there were stays - the hospital became her second home. Goodnight kisses and cuddles from Dad and Brax were also replaced with facetime calls.
After her first course of chemotherapy and a nine-hour operation to remove the tumour, Kyah had a bone marrow transplant to try and eliminate the cancerous cells in her body. With tears in her eyes, Renae can only describe the horrible side effects as 'scary.' In the second week post-transplant, Kyah hit rock bottom.
"For just over one week, my little girl was a shell of herself. Her tiny body was covered with painful blisters from head to toe, she was on high-flow oxygen and had mucositis so all of the tissue inside her mouth was inflamed and sore," recalls Renae.
Over a 9-week stay, Kyah completed five rounds of chemotherapy, 12 cycles of radiation and is about to start immuno-therapy treatment which involves a one-week hospital admission stay every month, for the next five months.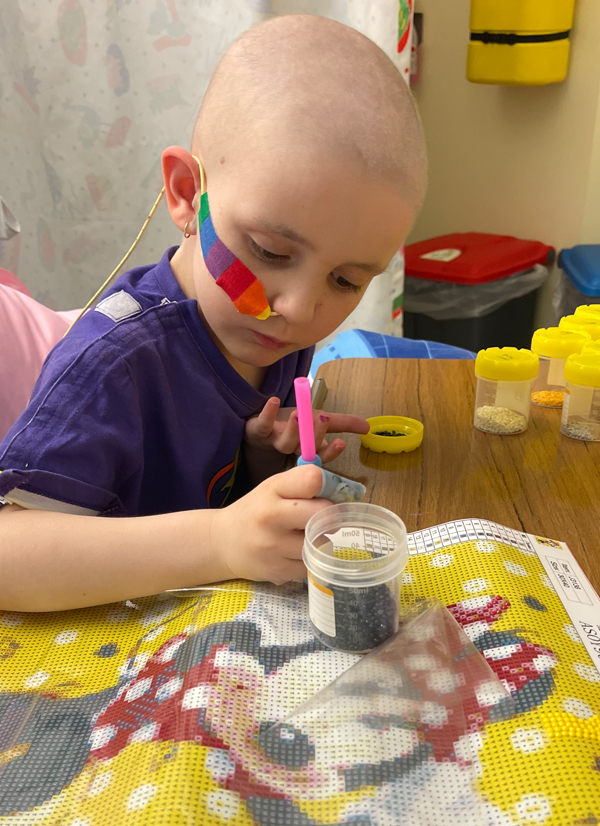 Despite everything Kyah has been through and the long road she has ahead, her doctors say she's now responding well to treatment.
The 'sass-queen' of the family and cheeky youngster still loves nothing more than playing with her brother and friends. But now it's different. Today, they have to be careful her central line doesn't get caught and be extra mindful of nasty germs. Her bones are fragile, her body is tired but her bright little personality still shines through.
Sydney Children's Hospitals Foundation is honoured to have Kyah's family on board this year as our Walk for Kids with Cancer patient ambassador.
"We feel so lucky to be this year's patient ambassador. This is our way of giving back to all of the amazing staff at the Hospital who've supported us through our journey – from the music and child-life therapists to our oncologists and the nurses."
"It's so important we continue raising funds and leaving our mark on this devastating disease, so all kids, just like Kyah, have access to the best care possible. Fundraising is how we're going to get there," said Renae.
No child should ever have to go through cancer, but those who do deserve our all. To help sick kids like Kyah fight cancer, visit walkforkidscancer.org.au and register for our annual scenic walk today.
Impact of Walk for Kids with Cancer 2021 fundraising: