HOMEFREE helps children receiving treatment for infections to switch to oral antibiotics, resulting in a reduced hospital stay.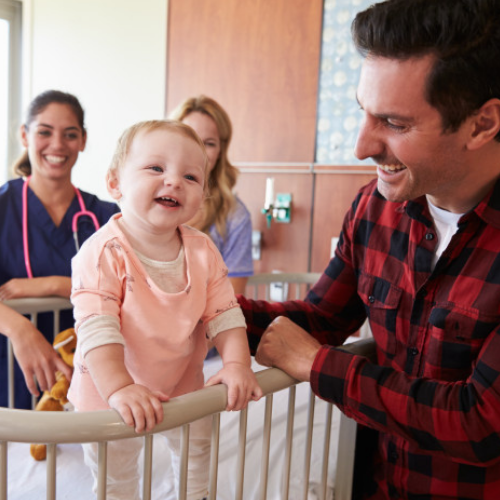 Every day, children are admitted to hospital for treatment of infections. Many of these children are treated in hospital for longer than necessary, often because they are receiving intravenous (IV) antibiotics. With COVID-19 putting enormous strain on the health system and the community right now, efforts to get children home from hospital safely are needed more urgently than ever. Using a tailored program, HOMEFREE will help children switch from IV to oral antibiotics, getting them home sooner.
Dr Brendan McMullan, Paediatric Infectious Diseases Specialist and Microbiologist at Sydney Children's Hospital, Randwick (SCH) saw huge potential in updating and improving hospital use of antibiotics in children. These drugs initially need to be given intravenously, when children are threatened by serious bacterial infections, and that requires a hospital setting. But kids can get out of hospital and go home once they've been safely transitioned onto oral antibiotics, which mums, dads and other carers are able to administer safely.
In 2016, Dr McMullan trialled a pilot program at SCH to investigate the intravenous (IV) use of antibiotics in children and explore any barriers that impede the transition between the use of IV and oral antibiotics in patients.
"The answer to that is not only about parents or carers being ok with administering oral antibiotics. It's about doctors and nurses being able to identify, and feel professionally comfortable about, when the transition can safely take place," Dr McMullan says. "It's about taking away the barriers that can stop the switch while still ensuring kids' infections are treated in a state-of-the-art way."
The pilot program showed an almost 20% improvement in the time taken to switch to oral antibiotics, reducing hospital stay by up to a day. Now Dr McMullan hopes to refine and upscale the program to children across NSW, through a program called HOMEFREE.
HOMEFREE hopes to run in five hospitals of different sizes across metro and rural areas. This is particularly important for children in rural and remote areas, where travelling to and from hospital can be physically arduous for both children and parents as well as costly.
HOMEFREE now has the opportunity to widen their reach and have a greater impact on the way clinicians administer care for younger patients. Scaling up a tailored program based on this research will significantly reduce hospital stays, improve quality of antibiotic use, decrease costs of care and deliver greater quality of life for children with infections in hospital in NSW and beyond.
Project team
Sydney Children's Hospital Infectious Diseases local team:
Dr Brendan McMullan, Paediatric Infectious Diseases Specialist and Microbiologist
Dr Adam Bartlett, Paediatric Infectious Diseases Specialist
Dr Clare Dyer, Research Co-ordinator
Australia-wide expert team:
Prof. Karin Thursky, Director, National Centre for Antimicrobial Stewardship, Royal Melbourne Hospital
Prof. Cheryl Jones, Head of School and Dean, Sydney Medical School, The University of Sydney
Associate Professor Christopher Blyth, Associate Professor of Paediatrics, The University of Western Australia
Dr Pamela Konecny, Infectious Diseases Specialist, St George Hospital
Associate Professor. Lisa Hall, Associate Professor of Epidemiology, The University of Queensland
Dr Gabrielle Haeusler, Paediatric Infectious Diseases Physician, The Peter MacCallum Cancer Centre, Melbourne
Associate Professor Penelope Bryant, Paediatric Infectious Diseases Physician and General Paediatrician; Medical lead of Hospital-in-the-Home, The Royal Children's Hospital, Melbourne
Donor acknowledgment
Funds raised by Curing Homesickness, with corporate partner Coles, has supported the funding of HOMEFREE.
HOMEFREE was identified as a vital project in NSW by Alliance Partner, Sydney Children's Hospitals Foundation which raises funds for the Sydney Children's Hospitals Network.