Meet Jade
11-year-old Jade was diagnosed with Acute Lymphoblastic Leukaemia in 2016. Since then, she has undergone intensive treatment including chemotherapy and a bone marrow transplant meaning she had to spend many weeks in isolation.
So when Jade had the opportunity to collaborate with artist Andrew Christie in one of the Foundation's Art Experience workshops, she jumped right in. Using an iPad supplied by our Art Program, Jade took photos of all the people who are important to her. And with Andrew's help, she brought them together to create a larger image called a 'pixel portrait'.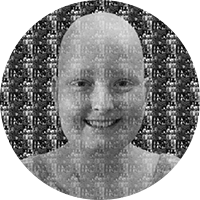 "The project was really fun, the best part was taking the pictures. Every time I had a visitor I would ask them to be in a photo with me. Waiting to find out how it would turn out in the end was really exciting."
- Jade
Healing through art
"Jade absolutely loved taking part in the project," says Jade's mum, Fiona. "The side-effects she was suffering from at the time were terrible. She lost so much muscle tone she couldn't walk and had no feeling in her legs. Making a piece of art gave her a distraction and something to focus on."
Creating art can help our young patients with their physical, mental, and emotional recovery by relieving anxiety and decreasing their perception of pain. The workshops also help to reduce loneliness, especially for kids like Jade who have been in Hospital for a long time.
A little piece of me
The pixel portrait project 'A little Piece of Me' helped Jade to explore how others saw her and how her identity has been shaped by her support network – her family, friends and Hospital team.
Before she went home, Jade was thrilled to see her stunning portrait on public display in the Hospital as part of the Art Program's Winter Art Exhibition.
Join us at our Spring Arts Opening
We invite you to join us for the launch of our Spring Arts Exhibition, Thursday 7 September 2017, 5:30pm-7:30pm.
Call 1800 244 537 to find out more.