Meet Cooper and his family
Cooper was just three weeks old when he suffered a cardiac arrest. An agonising 26 minutes went by before his little heart started to beat again. He was critically-ill after suffering heart failure and his family feared the worst.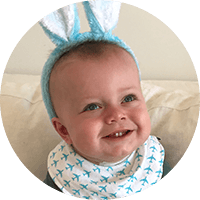 "The thought of losing Cooper was unimaginable."
- Jess, Cooper's mum
Saving Cooper's life
Cooper's Intensive Care Team decided to treat him using an ECMO machine: a very high-risk procedure, but now the only option. The ECMO drains the blood from the body to remove carbon dioxide and adds oxygen to red blood cells. It then warms the blood again before returning it to the body, bypassing the heart and lungs, to give them a chance to recover.
The difference you made
Thanks to vital donations like yours, our expert medical staff have access to state-of the-art equipment and technology like the ECMO, that gives kids like Cooper a second chance.
Slowly but surely, Cooper started to make progress and Jess and Pete began to celebrate small victories, like giving him his first bath and taking him off the ventilator to breathe on his own.
Finally, after 176 days in Intensive Care, Jess and Pete took Cooper home and were able to enjoy his first birthday surrounded by friends and family.
Watch the video of Cooper's first birthday celebrations