C Humans of our Hospital r
Meet Maria - Clinical Nurse Consultant in Palliative Care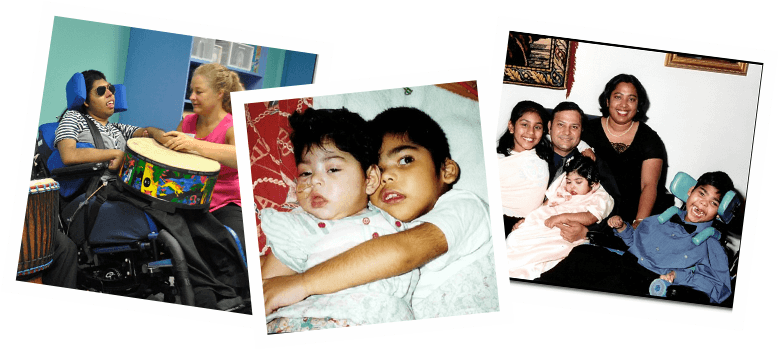 Q. How long have you been working at Sydney Children's Hospital, Randwick and what is it that you do?
A. I've been a Clinical Nurse Consultant with the Palliative Care team for more than 10 years. We support children with life-limiting conditions and their families through illness and bereavement, both in and out of Hospital. We provide compassionate care and become an extension of the family during their time of greatest need. A big part of this is working with parents to feel empowered about their child's treatment. And of course, just being there to listen.
Q. Why did you want to work in Palliative Care?
A. It's something I've personally experienced. My youngest daughter Tiarna died in 2003, aged three years and my son Tristan died in 2014, aged 17.
Both had Lissencephaly, a life-limiting illness which caused severe muscle weakness and affected their breathing. They had trouble swallowing, experienced daily seizures and couldn't communicate verbally. They needed high-level care, 24/7.
The most difficult thing to cope with was the unpredictability. We were always on edge, fearful even when things were good because we knew it wouldn't last. This is such a stressful way to live but with the right support, our family managed to find a balance so we could make the most of the good times.
This was largely because of the invaluable support of the Palliative Care Team. A few years after Tiarna's death the role with them was advertised and I felt it was meant for me. I believed the experiences I'd gained from my journey could help other families like mine.
Q. How do donations help children and families who are supported by the Palliative Care Team?
A. Donations are so important. Palliative Care isn't just for someone towards the end of their life. It can be about long-term support, both medical and psychological. Tristan needed their care for 16 years.
My family's goal was to enjoy time with our precious children. We wanted to create memories that would sustain us past their short lives. This is the case for many of the families we meet, and the community's support makes this possible.
For example, donations have helped the continuation of the Palliative Care Play and Hydrotherapy clinic, which has evolved to include pet therapy. Donations have also funded the purchase of books for patients and their siblings explaining what is happening within their family and helping them deal with their emotions. Most recently the ward was able to purchase a Sensory Station, which brings a sound and light show to a child's bedside. Having these special moments makes a world of difference to young patients and creates memories for a life time.
Q. What motivates you to provide the care you do?
A. I love what I do, and it's such an honour to support families at their most vulnerable. Birth and death are both times of great emotion and pain. So much planning goes into a birth but sometimes people don't realise the same amount of planning is needed for someone who is dying. This time remains in a family's memory forever and my motivation is to help families feel that no stone was left unturned and no effort spared in helping their loved one.