Refuge for regional families
Helping regional families in times of need
It's not just children from Sydney who visit Sydney Children's Hospital, Randwick. Patients from all over NSW (and beyond) rely on the world-class and highly specialised care provided by the Hospital's expert teams. For families who've travelled long distances, spending time at the Hospital can be difficult as they can face extra pressures caused by being away from home.
One of these is finding somewhere to stay and although there are amazing services both in and out of the Hospital that provide accommodation, they can sometimes be fully booked. Thankfully, one of the Foundation's corporate supporters is here to help regional families in their time of need. Coogee Bay Hotel have not only raised over $2.5 million for the Hospital to date, they provide free hotel rooms to families with children at the Hospital each year.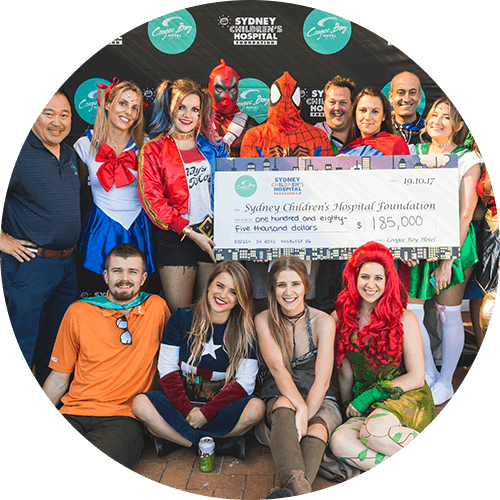 Meet Joel and his family
For 16-year-old Joel's family, this incredible generosity was invaluable. Joel suffered a spinal cord injury at a property in Goulburn and was transferred to our Hospital for specialised rehabilitation.
Upon arrival, the family were sleep deprived and emotionally fatigued having already spent over a week in another hospital. Joel's parents, Tony and Belinda, were able to stay in a room at Coogee Bay Hotel for two nights for some much-needed respite, and a chance to be together after the trauma they had experienced.
In addition to relieving the financial strain of accommodation, the room gave them a comfortable and private place to relax while away from their usual support network of family and friends.
Some much needed respite for Joel and his family
"Tony and I had the chance to escape the Hospital setting and have some downtime needed to try recoup and recharge," says Belinda. "It was clean and had a luxurious feel to the room, with the added convenience of a short distance to the Hospital."
Joel made a fantastic recovery and is now walking again and back at school.
Thank you Coogee Bay Hotel for making a significant difference to kids like Joel and their families in so many ways.
If you'd like more information on how your business can support Sydney Children's Hospital, Randwick: