u
The difference you make
N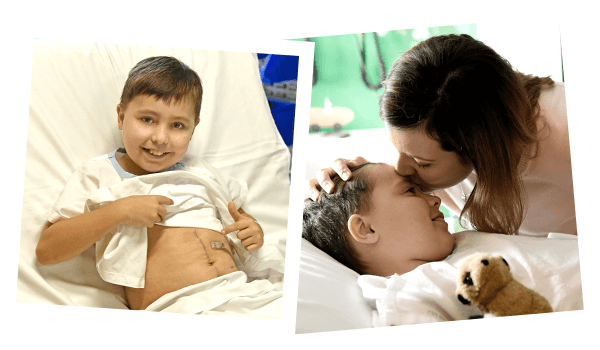 Remember Owen?
Last year, we introduced you to Owen. We told you about his sudden diagnosis at age three with Nephrotic Syndrome, a life-threatening condition that causes a loss of protein through the kidneys and has severe effects on the body. We shared the ordeal Owen went through, enduring more than 15 operations, one of them to remove his left kidney.
Owen has also had to cope with the serious side effects of his condition. At age 6, he stopped growing, so the Endocrine team at the Hospital prescribed growth hormones that needed injecting six times a week.
But when Owen was 11, his family received the devastating news that his remaining kidney was shutting down. His only chance of survival was a kidney transplant. Thankfully Owen's Dad, Anthony, was a match.
It was when Owen was in recovery post-transplant that the we heard about his amazing story of resilience. Owen and his family agreed to share it as part of the 2017 Gold Telethon on Channel Nine, and we even captured his first day back at school after a long six months away.
How is Mr popular doing today?
You were inspired by Owen's story, donating more than $6 million dollars! Thank you. Your individual gifts ensure we can continue to support the amazing work of the Hospital's staff, who are determined to improve the lives of patients like Owen.
He was so popular we thought you'd like to know how he's doing now. Here is what his mum Natalie had to say:
"About a year after transplant he caught a virus which triggered an acute rejection in his kidney. But the amazing renal team caught it in time and after a few weeks in Hospital Owen was back home. He's now doing really well and since transplant has loved using his newfound energy, returning to playing sports and throwing himself into learning. He's now graduated grade six!"
Owen will have to take medication daily for his whole life and will continue to travel to the Hospital regularly to receive treatment. But thanks to your generous support, the Hospital can continue to give Owen outstanding care and make sure he has a bright future.