C Humans of our Hospital r
Meet Music Therapist Monica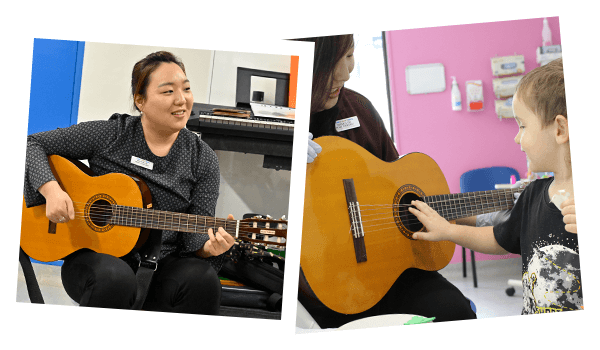 Q. How long have you been working at Sydney Children's Hospital, Randwick and what do you do?
A. I'm a registered music therapist and I've been here at the Hospital for two and a half years. Music therapy is a research-based health care profession that uses music to help maintain and enhance an individual's quality of life.
A child's medical journey can take several days, months, years, or could even be a lifetime. Music therapy helps to make that journey as positive as possible - whether I'm engaging a family in a session where we improvise and sing or playing music at a child's bedside. It provides a safe outlet for communication and emotional expression, helps develop coping strategies to manage anxiety and improves the Hospital environment. Sessions are also focussed on reducing the perception of pain, diverting attention away from a source of distress and fostering meaningful family moments.
Q. Why did you want to be a Music Therapist?
A. My family's passionate about music so I began learning to play instruments at a young age. After completing my formal music training, I wanted to share my passion and use my skills to help others. I also had a strong interest in psychology so it made perfect sense for me to study music therapy.
Q. How does your work make a difference to children and families at the Hospital?
A. Patients and families often comment that music therapy makes them feel alive and gives them a sense of calmness and hope, especially in a place that can be confronting and filled with uncertainty.
Having the whole family come together through music making and celebrating what each individual can do brings them so much joy. It's a privilege to share music with patients and families and connect with them, possibly during some of their most challenging times.
Q. How do donations help children and families who are supported by the Child Life and Music Therapy Team?
A. My role is fully funded by community support. I simply wouldn't be here to help the kids and families without the generosity of donors.
We've also been able purchase resources like instruments, music books, recording equipment and even digital stethoscopes. We use these resources in countless ways, but there's one that's particularly special. An American music therapist developed an idea to help the families of terminally ill children cope with their grief where we record their child's heartbeat and make it into a song. The whole family is encouraged to take part in the creative process, adding their own vocals and sounds, and coming together to make precious memories. The recordings are then synced to match the rhythm of the heartbeat and a copy is given as a gift for them to hold on to and treasure.