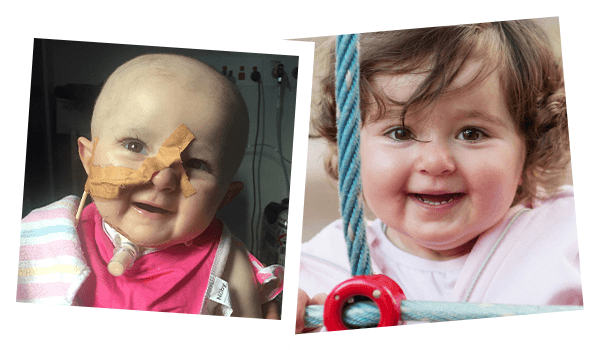 Mina and Rob's little rainbow baby
Mina and Rob always wanted a baby and their wish finally came true with Ellie. They called her their rainbow baby, because she came along after so many dark clouds.
But at 10 months old, she started to vomit regularly and lose weight. When she didn't get better she was sent for an x-ray. Ellie had a tumour the size of a football on her left lung.
"Our whole world was knocked off its axis," remembers Mina. "We were told to go straight to Sydney Children's Hospital, Randwick. The doctors there found the tumour was pushing on Ellie's airway and heart and she could stop breathing at any moment."
Ellie was immediately placed on life support, and started chemotherapy the next day, just before her first birthday.
"We never imagined this was how we'd spend our little girl's first birthday. She was sedated but the amazing team in ICU were able to wake her up for a few minutes to see the decorations and beautiful cake they'd made."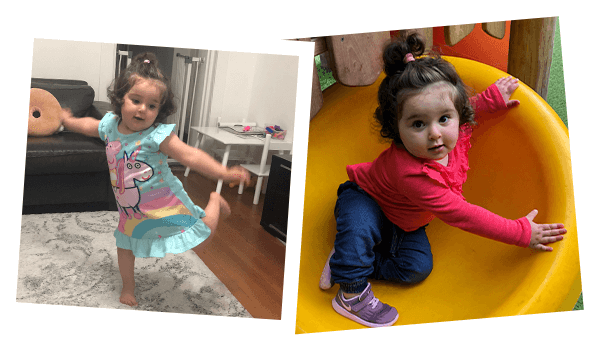 A miracle drug saved Ellie's life
Ellie's tumour was unresponsive to chemotherapy, so she was enrolled onto the ground-breaking Zero Childhood Cancer Program. Spearheaded by the Hospital's Kids Cancer Centre Hospital and the Children's Cancer Institute, the initiative aims to find cutting-edge treatments for the most aggressive forms of childhood cancers.
Using a biopsy of Ellie's tumour, researchers identified a rare genetic mutation driving the growth of Ellie's cancer cells and matched it to a drug designed to stop it. This brand-new drug was still in testing, but Ellie's condition was so critical, the company agreed to provide it straight away. Extraordinarily, Ellie's tumour shrank by almost half in a matter of weeks.
"It was incredible. She started turning over which she hadn't done before because the tumour put pressure on her side. She came off the sedatives and started to sit up. The next step was to get her breathing on her own. I was so anxious the day they took the tracheostomy out, but an hour after removal she said her first word – 'mamma.' A few days later we got to take her home."
Ellie is still receiving the specialised chemotherapy drug, which can be administered at home as syrup. She regularly returns to the Hospital for check-ups and will have to undergo surgery to fully remove the tumour.
Without your incredible generosity, the Foundation wouldn't be able to help fund initiatives like Zero Childhood Cancer which give kids like Ellie access to life-saving care.
"Ellie is currently getting to be a normal two-year-old. She loves The Wiggles and putting bows in her hair now it's grown back. She's walking and constantly waves and blows us kisses. We know that if we got this diagnosis 6 months ago Ellie's outcome would be very different. We are so grateful, and we don't know how to say thank you."