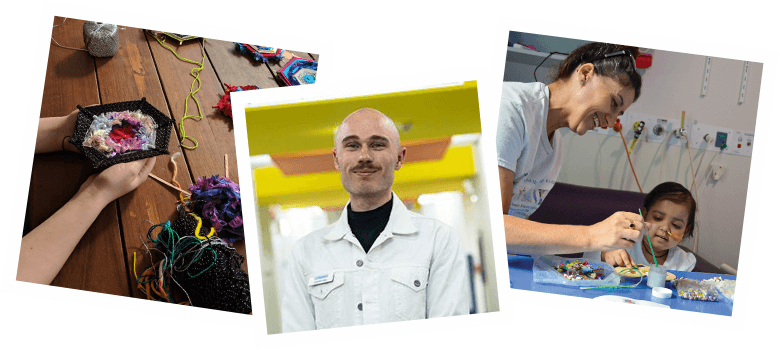 What is the Art Program?
There's a huge range of artwork filling the corridors and wards with colour and creativity thanks to the Art Program
Fully funded by donations from the community, the Art Program uses visual arts in all its forms to transform the Hospital into a place of wonder, inspiration and respite.
Art Program Manager, Timothy, has been here since 2013 and sees first-hand the incredible impact art has on patients and families.
What does the Art Program do?
Around the world, hospitals recognise the important role art plays as a healing tool.
The Art Program's philosophy is 'Art Celebrating Life' and has a vision to keep patients positive and engaged so that their stay in our Hospital is as positive as possible. It does this in a number of ways:
Art Collections
"We hold more than 900 artworks in our permanent collection thanks to the generosity of artists, art patrons, donors, commercial galleries, community groups and even patients and their families. These pieces range from paintings and sculptures to and murals and photography."
ArtEx Workshops and Exhibitions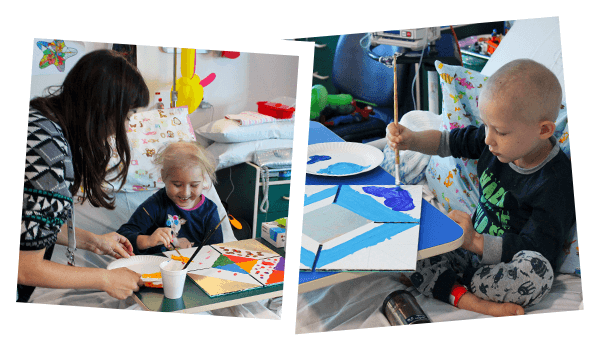 ArtEx Workshops
Art Experience (ArtEx) workshops are delivered in partnership with the Hospital School and Child Life Therapy Department. Each week artists are invited to hold sessions with patients, siblings, families and staff to create amazing art projects.
"A stay in Hospital can be a difficult time for anyone, but workshops benefit physical, mental and emotional recovery. In each session we teach a new creative skill which participants then use to explore their own interests artistically. By giving patients an opportunity for selfexpression they can communicate their own stories, often about their lives outside of Hospital. Focussing on creative tasks also means workshops provide distraction which helps to alleviate pain or anxiety."
---
"Art makes me feel happy. Painting makes me happy because my hands get to move and I don't think about my brother."
- Sibling of patient, 6 years old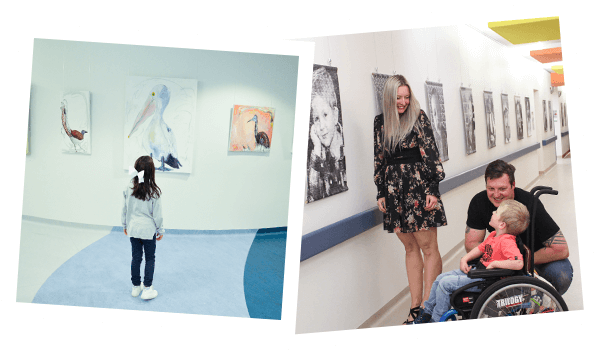 Exhibitions
Every three months, the Hospital corridors are transformed with rotating exhibitions featuring independent and emerging artists as well as artworks created by the kids themselves. These seasonal exhibitions give the audience a window to an external world that is creative, cultural, educational and inspiring.
"The best part about rotating exhibitions is that they constantly vary the Hospital environment. This is incredibly important, especially for longer term patients. Change in Hospital surroundings has been shown to inspire change within a patient to help accelerate their healing process."
---
"It makes us feel alive and makes us feel as though there is hope and beauty in the world. It makes you see the beauty wherein other people might not."
- Patient, 16 years old
The Art Program is a registered public collection.

The Foundation has been managing the Hospital's Art Program since 2001.

More than 120 ArtEx workshops are held with patients and their families every year.

You can purchase artworks from any of the four pannual exhibition rotations.
The positive impact of our Art Program is extraordinary and we rely on generous donations to ensure it can continue to benefit patients, families and staff.