The difference you've made:
July to December 2019
Thanks to amazing support from people like you, Sydney Children's Hospitals Foundation can help fund vital clinical care and research for sick and injured children in NSW and beyond. Here are some key highlights you have helped the Foundation achieve over the past three months.
Going Ga Ga for Radiothon
Radiothon was bigger and better this year with Rocky from Paw Patrol, the infamous Darth Vader and fan favorite Batman all making an appearance at The Children's Hospital at Westmead. Add an unforgettable performance from The School of Rock musical and you have a spectacular day for patients, families and staff.
Thanks to our incredible donors on the day, together you've raised another $4,005,865.20 for life-saving equipment and world-class treatment like new research into Rett syndrome.
Rett syndrome is a rare and devastating neurological disease that mainly affects girls. Those diagnosed cannot walk and need full time care.
Donations from Radiothon are helping the Molecular Neurobiology Research group at Kids Research to investigate gene therapy techniques that may offer those patients diagnosed with the syndrome a better outcome.
Running the extra mile
The dedicated and energetic #teambandagedbear representing The Children's Hospital at Westmead and #teamkids from Sydney Children's Hospital, Randwick, joined forces at City2Surf to raise vital funds for sick kids. United by their common goal, our 1,300 participants and 21 corporate teams ran 14km towards healthier kids.
We're incredibly proud to share their combined efforts raised…$664,438! GO TEAM!
The dream team
The unstoppable #teambandagedbear have done it again, doubling their target and raising $56,000 at the Blackmore's Running Festival. For one member, the gracious Laura, this year's marathon was the perfect opportunity to give-back to Children's Hospital at Westmead, on behalf of her friend and in the loving memory of her son Joe.
Inspired by their strength and courage, Laura raised $4,225.85 for the team, with all proceeds donated to the Newborn Intensive Care Unit. Our marathon teams are open to all, so register today and help make a difference to the lives of sick kids.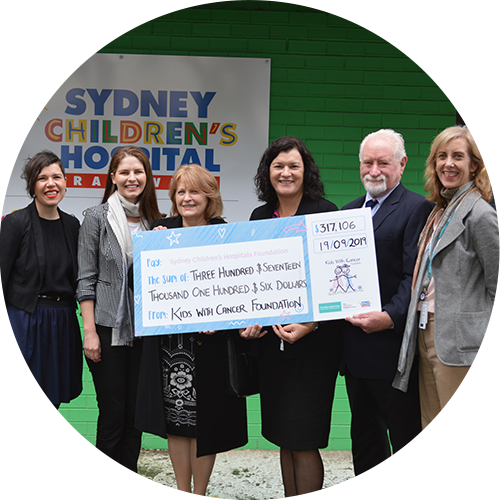 Lending a helping hand...
This year, we're celebrating 10 phenomenal years of partnership with the team at Kids with Cancer Foundation (KCF). To commemorate this milestone, KCF will continue funding the Behavioural Sciences Unit and Care Navigator Position at Sydney Children's Hospital, Randwick.
Over the last year, Helen has been a pillar of support for families in the oncology department, helping streamline appointments and collect results. Staff like Helen, in the Behavioural Science Unit, are invaluable to the hospital as they continue supporting young families affected by cancer after treatment. We're so thankful for their support.
Finding comfort through creativity
Sick kids living with a life-limiting illness can often find comfort expressing their feelings through art. Inspired by the powerful Art Program held at Bear Cottage, EVOLHOPE has donated $25,000 to help fund Judy's Part-time Art Therapist position.
Judy's creative flare and caring nature encourages parents, siblings and grandparents to join loved ones at Bear Cottage's Art Camps. These special workshops help families create memories and prized masterpieces. To ensure the kids have enough materials to capture their inspiration, EVOLHOPE has restocked their "Brightening Little Lives Trolley" too!
A shining light on paediatric care
Australian's warm and generous hearts shined extra bright in October, when Sydney's elite gathered to support our 10th SunSCHine event. Over the last decade, SunSCHine has raised a miraculous $5.6 million, with this year's instalment reaching a dazzling $1.1 million. These funds will be used to help purchase sparkling new equipment and support some of the hospital's brightest minds.
Celebrating our superheroes
The bravery, courage and love witnessed every day at Bear Cottage, was celebrated in late July during the magical Superhero Week. Dressed as their favourite characters, sick kids and their young families made special memories that will be cherished forever.
Thanks to the incredible support from schools and corporate partners, $360,000 was raised. This astonishing amount will grant even more families access to the inspirational work of Bear Cottage, as the only pediatric palliative care center in Australia.
Charlie's quest...
After recovering from a life-threatening head injury, 15-year old Charlie was determined to celebrate life's simple pleasures and help other sick kids. His passion for lifesaving at his local club, inspired his fundraiser- a board paddle from Coogee Beach to Bondi Beach in October.
With a target of $5,000, this legend smashed his goal, donating $5,420! His incredible achievement will help fund state-of-the-art equipment and world-class training, to give other kids the same fighting chance.
Picture perfect
Since 2008, the wonderful team at Sargents Pies Charitable Foundation have invested in sick kid's future, through state-of-the-art medical equipment. Once again, they've generously gifted The Children's Hospital at Westmead an EOS Imaging Suite, complementing their 2020 upgrade of their Interventional Radiology Suite. This miraculous piece of equipment will be used to take a whole-body 3D X-ray of kids with a spinal and lower limbs deformity. If this wasn't enough, Sargent Pies is also donating a Neuromicroscope to improve visibility during brain surgery at Sydney Children's Hospital, Randwick. Their total investment this year alone is worth a staggering $4,620,864!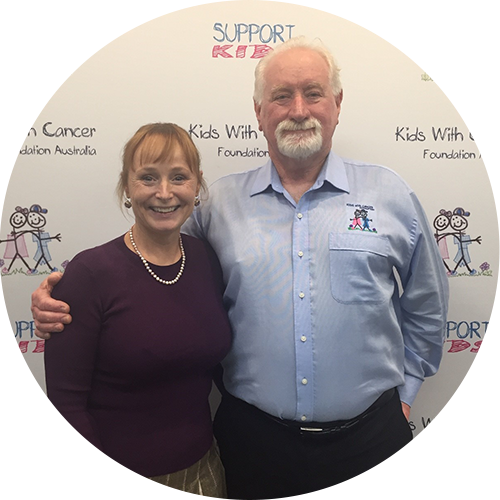 Investing in the future
We say it so often, but your generous donations to the Foundation helps sick kids in so many different ways. The extraordinary effort from our staff, fundraisers and volunteers has helped the Foundation raise over $32 million for the Hospital Network!
In the last 6 months, we've supported three research projects at UNSW including Behavioural Science Research. Thanks to the Kids with Cancer Foundation we were able to award UNSW with $75,000 to support their research. Their team will help determine the most effective ways the hospital can support cancer patients and their families, during and after treatment.
Knowledge is power
When possible, we always try to further medical professionals training. Recently, your support helped fund four nurses from the Kids Cancer Centre to attend the Australian and New Zealand Children's Haematology/Oncology Group Conference, in Christchurch. The conference was a great opportunity for them to learn more about recent breakthroughs and developments in cancer research, which will help them provide the very best care to all their oncology patients.
Christmas Appeal raises over $1m
Over the festive season, we were in complete awe of the incredible support from the community and corporate partners to help sick kids. Thank you!
Donate Your Hourly Rate
Thanks to the incredible support of our corporate partners, our first Donate Your Hourly Rate campaign was a huge success! 145 corporates joined our CEO Nicola Stokes in donating one hour of their pay, to help Light Up Christmas for sick kids. With a total of $26,000 gifted to the Foundation as part of the Christmas Appeal.
Lights for Kids
65 houses helped light the way for Santa to sick kids in hospital by taking part in Lights for Kids 2019. On top of brightening their day, over $98,000 was raised. These funds will help support the 159,229 kids cared for at the Children's Hospital at Westmead and Sydney Children's Hospital, Randwick, throughout the year. A heartfelt thank you to all those who participated, your kindness will help spread joy all year round.
These stories are just some of the ways the Foundation contributes to Hospitals in The Sydney Children's Hospitals Network, all made possible by the generous, ongoing support of our community. 2020 is full of new opportunities for us to make a lasting difference in the lives of sick kids. Thank you for being a part of it.