Last chance to view our Winter Art Exhibitions
27 August 2018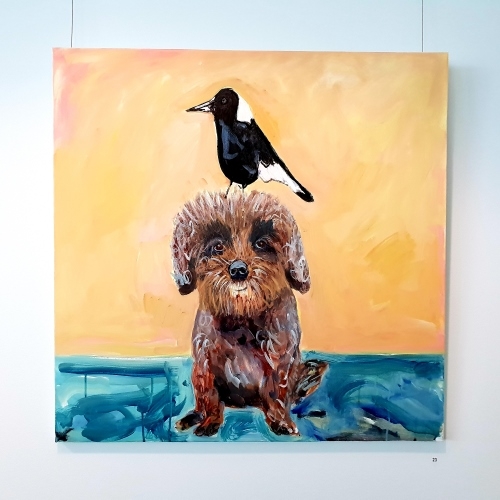 The Art Program at Sydney Children's Hospital, Randwick hosts a rotating schedule of exhibitions throughout the busy corridors of the Hospital; transforming it into a place of wonder, inspiration and respite.
Current exhibitions have been curated to introduce variance and diversity to the hospital environments. Five incredible art exhibitions adorn the walls the Hospital, with many artworks still available to purchase. The free exhibition is the second rotation for 2018 and will run until Friday 7 September.
Level 0
Delivered in partnership with Torrens University Australia, level 0 currently hosts "Strengths", a group exhibition featuring work from students, designers, and lecturers. Also on level 0 is a solo show from painter Emi Goodwin. Inspired by Japanese aesthetics and at times the brazen vernacular of the Australian landscape.
Level 1
Two solo shows are being exhibited on level 1; believing that nature is wonderful way to inspire people, Rachel Carroll showcases her mixed media works depicting personality and expression filled animals. While Karina Diaz's work features quirky illustrations with positive affirmations which brighten the days of our patients and families.
Level 2
Level 2 host a collection of work produced by patients and siblings in collaboration with LIVEWIRE, the Starlight Children's Foundations adolescent program delivered across major paediatric hospitals nationally.
Exhibitions allow the Art Program to raise money for the hospital with a portion of each sale taken as commission and contributed to the fundraising efforts of Sydney Children's Hospitals Foundation. Through purchasing an artwork via the Art Program, you not only support Sydney's visual artists, but you also help to fund groundbreaking research and everyday clinical care at Sydney Children's Hospital, Randwick.
For more information about our Art Program and sales, please contact us on 9382 1188 or email art@schf.org.au.