Photographer-in-residence Jimmy Pozarik: The man behind the lens
1 May 2020
Photographer-in-residence and former Time Magazine photojournalist, Jimmy Pozarik has been working for the Foundation for the last eight years. Within that time, he has documented the hospital journeys of thousands of patients and Hospital staff through the eye of the lens.
His latest exhibition, Then and Now, is currently part of Head on Photo Festival and showcases his unique ability to capture the incredibly moving stories of 25 young patients through the power of photography. Here he tells his own story.
"I've been a professional photographer for 50 years. Born and raised in New York City, I began my career as a national and international photojournalist. Specialising in social issues, international politics, medical breakthroughs and life behind the Iron Curtain, I've been published in most of the world's major news publications and worked as a contributing photographer for the Associated Press, Newsweek Magazine, Time Magazine, and The New York Times."
In 1985, I moved from New York City to Sydney to become Time Magazine's South Pacific Staff Photographer - emigrating proved to be the best decision of my life.
In the mid-1990's, as the financial climate changed for news photographers, I segued from photojournalism to shooting stills for Australian film and TV productions. For 17 years, I was fortunate to work on many award-winning productions and formed lifelong relationships. A number of my portraits of leading Australian actors are included in the permanent collection at The National Portrait Gallery in Canberra.
At the end of 2011, I left the world of film and television to become the photographer-in-residence for the Sydney Children's Hospitals Foundation. Fate had dictated that I was now financially independent and no longer needed to work for money. But, I still wanted to work and was now very lucky to be in a position where I could choose what I wanted to photograph. It had to be big, it had to be meaningful, it had to benefit the community, it had to be super interesting to shoot, and it had to be real. It also had to be close to home and require no artificial lighting or equipment that couldn't fit on my motorcycle.
Choosing a subject was easy. The difficulty was getting permission.
It seems I've always had a connection to hospitals. I've been volunteering in hospitals since I was 16 years old. My mother was a nurse, my sister was a nurse, and today, many of my closest friends are doctors and nurses. When living in New York City I belonged to a voluntary ambulance corp and have always been first aid certified - I was often assigned groundbreaking medical news stories because photo editors knew of my medical background.
My association with the Sydney Children's Hospital, Randwick however, goes back to 2001, when for five years I was a play therapy volunteer in Oncology. From 2013 to 2018, as well as being the photographer-in-residence, I also worked in Emergency; again as a play therapy volunteer.
So, it was an easy decision that the perfect subject for my photo project should be the Hospital. My vision was 'A Year in the Life,' to spend 12 months embedded in the Hospital, documenting every aspect of everyday life. I was told if the project was approved, it would take months before permission could be granted as no one in Australia had undertaken something like this before. I was told to go home and wait.
Three months after the initial meeting, permission was granted. I was to spend the entire year of 2012 embedded in the Hospital, documenting everything. Nothing would be off limits.
The first shoot was scheduled for January 11, 2012. I had no idea then, but my life was about to dramatically change forever. And there would be no going back.
My goal was for 'outsiders' to see what I see. To be able to feel the depth of emotion that never let's go. To have a higher understanding of what families and friends go through when they enter this world and then to be better able to support them during their often-challenging journey.
Sydney Children's Hospital, Randwick is a magnificent institution, but it can be a place of immense stress. Every day is a battle between dedicated staff and the circumstances that affect our sons and daughters. Every day I enter, I am humbled by the fortitude and dignity of our precious children and their parents. Every day I enter, I am in awe of the dedication of the hospital staff.
Working in the Hospital has been the most rewarding experience of my life, both professionally and personally. I have seen things no one should see. I have heard things no one should hear. I have attempted to block out my emotions and not get involved, but I have failed."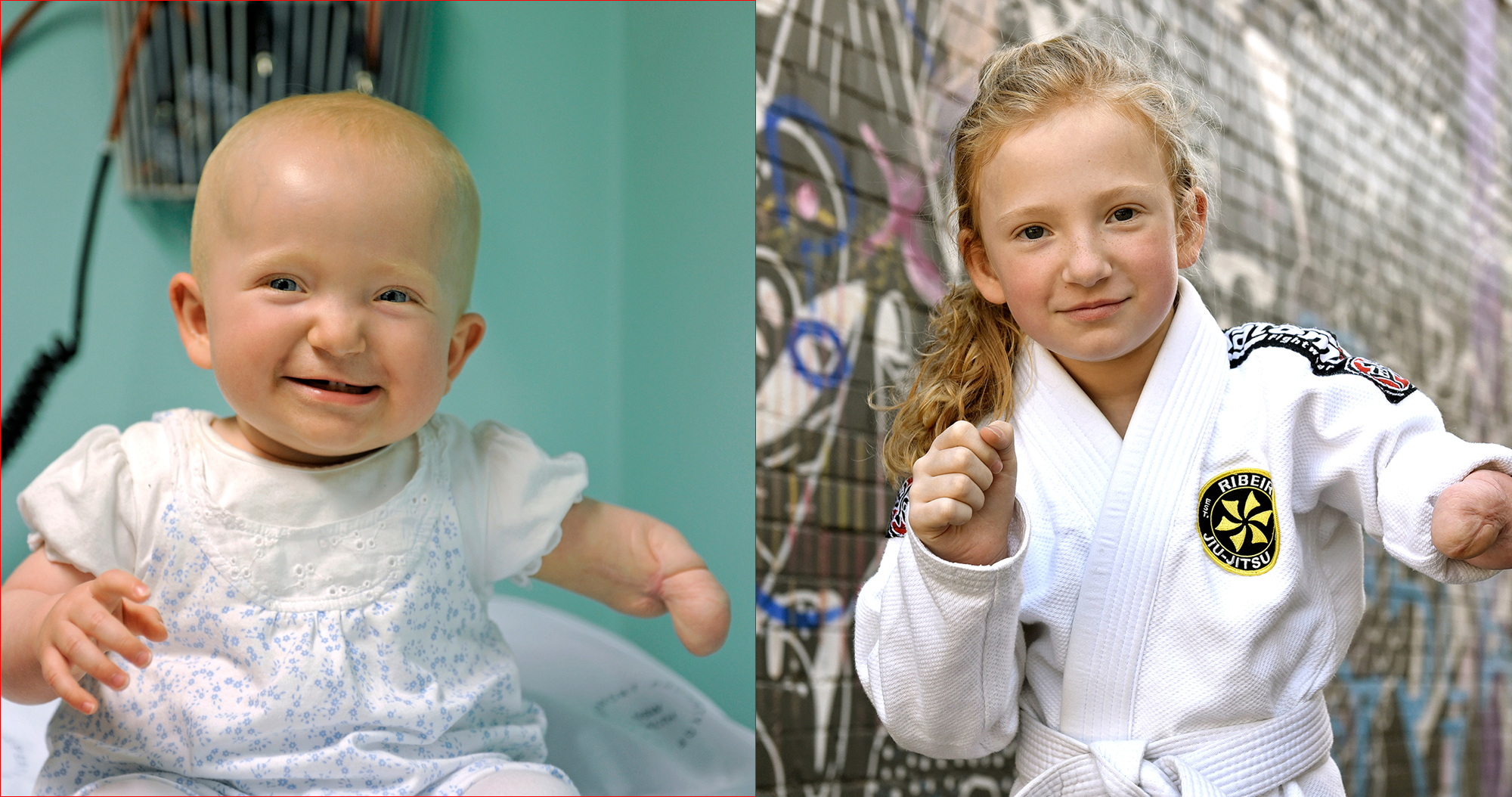 "Then and Now, is a collection of images of 25 children, each child represented by a before and after photo. Each set of photos is accompanied by a story, mostly written by the parents, describing the physical and emotional journey that they and their children have experienced.
An entire spectrum of narratives is told. Fleeting Hospital encounters that were barely thought of again, traumatic accidents, miracle survivals, medical journeys that will last a lifetime, and even those that have ended all too soon. Whether happy or sad, they are a true reflection of the diversity that graces a place like the Sydney Children's Hospital, Randwick."
You can view Jimmy's full Then and Now exhibition online at Head In Photo Festival or by downloading the Then and Now program.