For those unfamiliar with a children's hospice, it's easy to feel a sense of sadness when imagining such a place…
But as the parents, siblings and carers of children with life-limiting conditions know, Bear Cottage is the perfect home away from home, providing love, support, care and respite. It gifts families precious time together. It's the kind of gift parents like Yuki and Scott treasure the most – a special place they can relax, make memories and connect with other families, all while meeting the complex needs of their beloved son, Kai.
At 13 years old, Kai has epilepsy, global developmental delay and vision impairment which are complications due to his severe cerebral palsy - a group of disorders that affect body movement and posture. His condition means Kai mainly communicates through noises and actions and moves around with the extra help of his wheelchair.
Although Yuki and Scott's love for Kai has no bounds, his disabilities are tough and have always required constant care from the moment he was born.
At Yuki's 23 week scan with twins Kai and Ryan, there were initial signs one was receiving more blood supply than the other, known as 'twin to twin transfusion' - a rare pregnancy condition which can be very serious. Luckily, the first-time parents were able to breathe a sigh of relief when the disorder naturally corrected itself and both Kai and Ryan were born at 34 weeks.
However, just hours after entering the world with his best friend by his side, Kai had a major seizure that resulted in a significant brain injury.
"Looking back we both felt so scared, confused, numb and alone. No one could give us answers about his future and everything seemed so uncertain. I just felt this deep pain and loss over a 'healthy set of twins'. One minute you're picking out matching outfits and the next you're in intensive care. Our focus had to be on Kai, so we couldn't feel purely happy with our healthy baby Ryan."

Yuki
Kai's Mum
To this day, Yuki and Scott are still learning how to balance the time spent caring for Kai while juggling the needs of his siblings. It's the same feeling many parents at Bear Cottage experience before they step foot through the front door.
"Bear Cottage has been providing us respite for the last eight years. All of the staff here are absolutely amazing and are basically an extension of our own family. They care for Kai like he's their own and spend time with him playing his favourite music, massaging his feet and hands.
Our time spent at Bear Cottage gives Scott and I a chance to make sure Ryan and Leon's needs are met too, so we can all recharge as a family while Kai is being looked after by dedicated nurses." says Yuki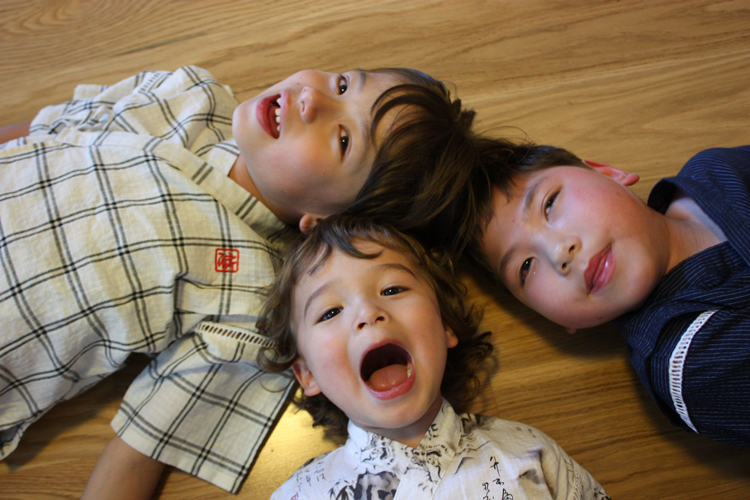 This year Christmas brings...
This December Bear Cottage will be caring for up to 25 families just like Yuki's and Scott's. Together, they will enjoy a special Christmas meal surrounded by the wonderful staff who have become an extension of their family, not forgetting Beau the resident pet therapy dog.
It's these simple activities, focused on spending time together that are the perfect gift. Although they will never know which Christmas will be their last, with your help Bear Cottage can help make every moment count for families like Kai's.
To help light up their Xmas, donate to our Appeal today and gift families like Yuki's and Scott an extra helping hand.