Our Art Program uses the visual arts in all forms to transform Sydney Children's Hospital, Randwick into a place of wonder and respite, creating dialogues between artists and patients. Through the Collection and through the Exhibition Program, the Art Program also provides opportunities for emerging artists to showcase their talents.
All works on display are available to purchase; with a portion of each sale contributing to the fundraising efforts of Sydney Children's Hospital Foundation. For more information please contact the Art Program - phone +61 2 9382 1188 or email art@schf.org.au.
Summer Art Exhibitions Opening - Photo Gallery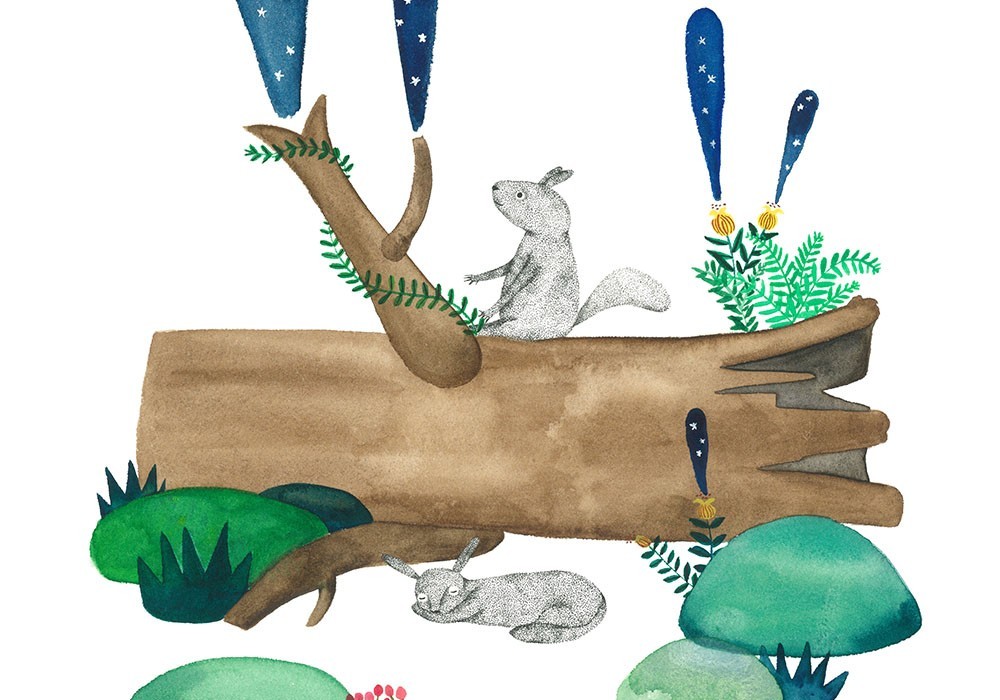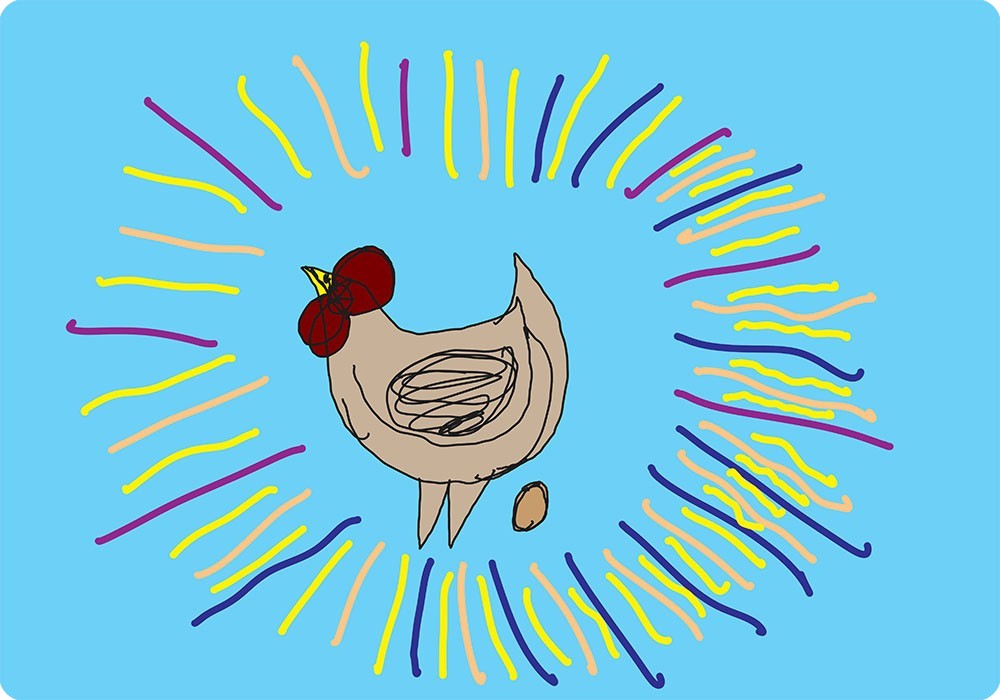 Nightfall (2016) Nana Sakata
Chicken with Bright Sparks Around It (2016) Arunan Dharmalingam
Nana Sakata will showcase her bright and playful illustrations as our major solo show on level 0 of the Hospital. First exhibited at the Hospital in 2013, Nana returns with "Wind, Sand and Stars"; a collection of work which explores the lives of her little imaginary creatures and their adventures. Inspired by seasonal activities, animals and nature, each drawing features creatures placed in surreal environments or caught in an odd and playful activity. This series of ink drawings can be viewed as individual fabricated narratives or as pages that fell from picture books.
Also included on level 0 is a solo exhibition from Arunan Dharmalingam; a Sydney based artist living with autism, who loves to draw colourful and thoughtful portraits of farm animals. Arunan's work was featured at the Hospital in the 2016 exhibition "Studio A Play", a group show featuring work from the members of Studio A, a mentoring program for artists who live with intellectual disability.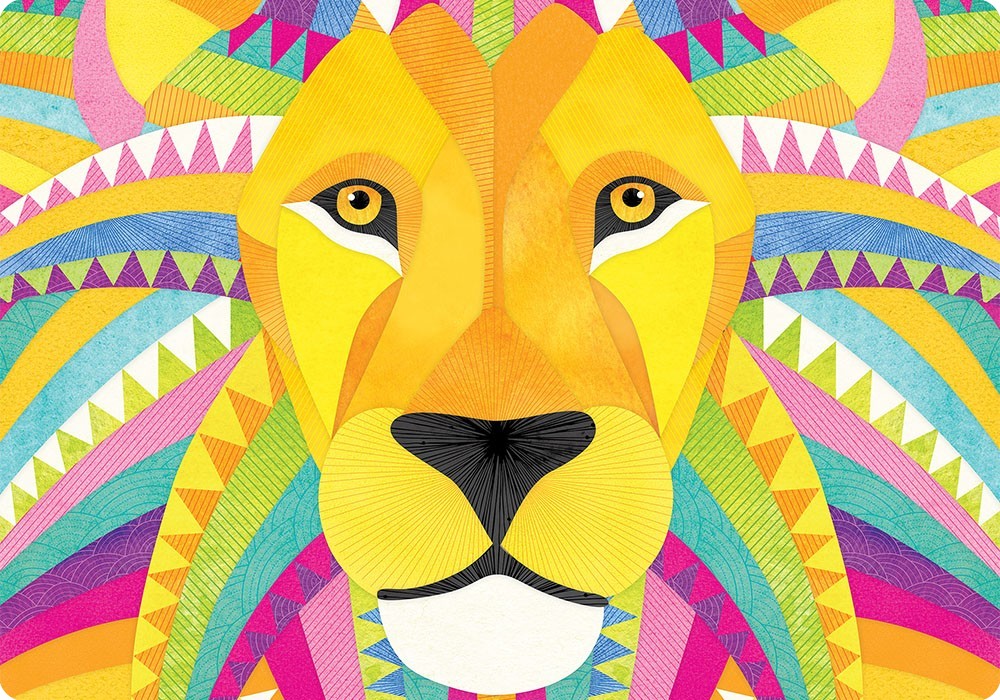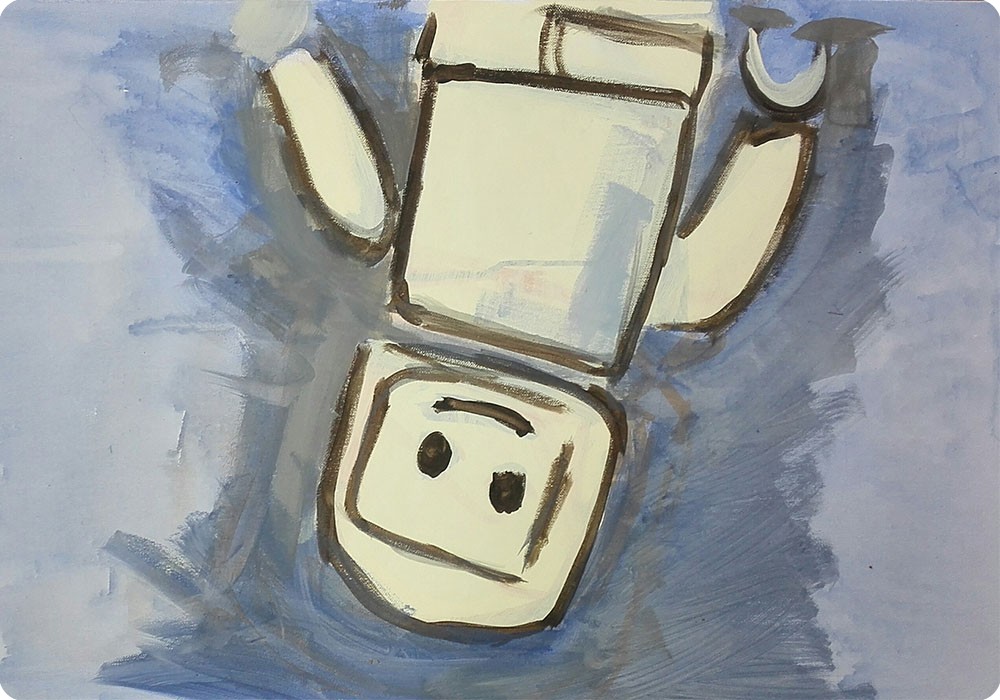 Marley (2016) Shanti Sparrow
Upsidedown Spaceman in Blues and Cream (2016) Richard Stewart
Two shows will be on display throughout level 1; "Trivial Delights" by Richard Stewart and "Nesting" by Shanti Sparrow.
As a child, artist Richard Stewart always enjoyed drawing and making things. He explored this interest whilst at school and further perused his passion for art at the National Art School, graduating in 2001. "Trivial Delights" is Richard's second exhibition at the Hospital, first displaying his work in a sold out solo show in 2015.
Richard uses his technical art training to explore the familiar painting genre of still life, but injects characterisations using LEGO as his subject matter; particularly the LEGO Spacemen.
Shanti Sparrow has been involved with the Art Program at the Hospital since 2014, participating in two group shows and facilitating workshops with patients and siblings; "Nesting" marks her first solo show at the Hospital. Working as a professional graphic designer and illustrator, Sparrow draws on her love of nature and passion for animal rights to create enchanting scenes in her very unique style.
The exhibition will feature her signature style of personality filled animals made of scanned textures, vector patterns and digital collage. Sparrow's art connects with the child in all of us; bright, colourful, playful, friendly and engaging.
Level 2
Level 2 will be full of floral delights with a photographic exhibition "Blooms In Your Face" from photographer and Sydney Children's Hospital, Randwick volunteer, Jimmy Pozarik.
Pozarik has been working as a volunteer at Sydney Children's Hospital for nine years, first in Oncology and now in the Emergency Department. He is also the Hospital's photographer-in-eesidence. Born and raised in New York City, he began his career as an international photojournalist, working as a contributing photographer for the Associated Press, Newsweek Magazine, Time Magazine, The New York Times, Forbes Magazine and many other national and international publications.
"Blooms In Your Face" is Pozarik's third solo show at the Hospital. His previous two shows sought to document the Hospital and highlight the incredible journeys undertaken by patients and families. "Blooms In Your Face" takes a different approach, Pozarik seeks to fill the corridors with colour and life with his iconic still shots of flowers.