Thanks to the amazing support of our community Sydney Children's Hospital Foundation funds everyday clinical care and the groundbreaking research needed to transform the future of children's health in NSW and beyond.
2017 has been an incredible year for the Foundation. As we look back we want to share a few examples of how you've helped us make a difference for the kids and families cared for by the dedicated team at Sydney Children's Hospital, Randwick.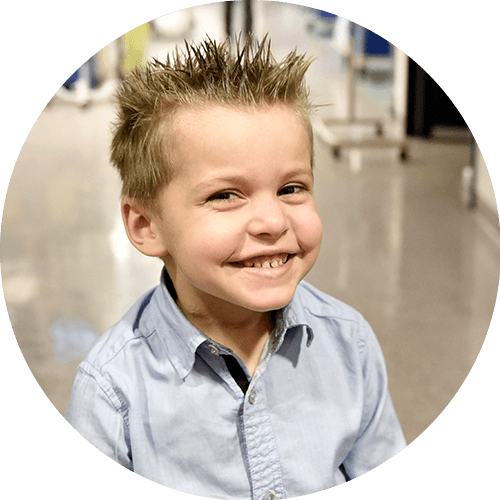 January
Training for the next generation child health specialists: Our Fellowship Program is critical to ensuring that the most promising young paediatricians can continue to develop in their chosen specialty. Seventeen Fellows started in 2017 in a range of areas, such as Cardiology, Community Health, Emergency, Endocrinology, General Surgery, Intensive Care Unit, Kids Cancer Centre, Neurology, Pain and Renal. The Foundation invests around $2million each year to train the next generation of leading paediatric specialists caring for sick children today and leaving a lasting legacy as our Fellows go on to educate others and conduct research throughout their career.
Advanced equipment for children with heart conditions: The heart of a newborn is the size of a 20 cent piece so precise measurements are essential. To help the Cardiology team, we funded an echocardiogram, or echo, to conduct an ultrasound for the heart used to determine if there are any abnormalities with the physical structure of the heart, or in the way blood moves through various parts of the heart. So when the Cardiology Department asked, we invested in an Echocardiogram Machine for them.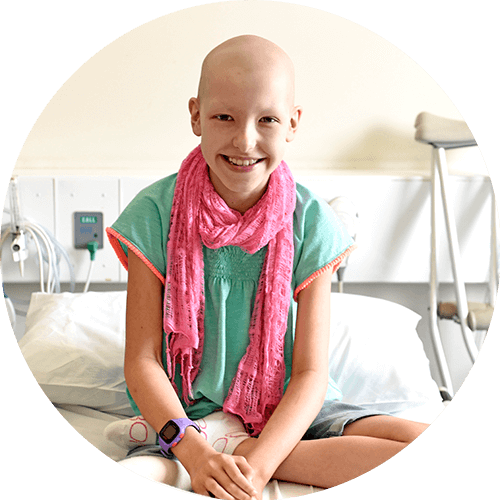 February
Giving childhood cancer survivors a chance of a family in the future: At any one time there are 400 patients undergoing cancer treatment in the Hospital. Advances in diagnosis and treatments have led to better survival rates. However, as these rates improve fertility has become a significant survivorship consideration for many patients. Thanks to two grants, this year the Sydney Children's Hospital Foundation was able to provide funding to the Future Fertility Research Project.
Breaking the cycle of abuse and neglect: The amazing Child Protection team provides a therapeutic service to families where children have been abused or neglected. The Interdisciplinary Reparative Project (IRP) is a key program run by this team that combines Occupational Therapy with Social Worker / Psychologist counselling sessions for both parents and children to break the cycle of abuse or neglect. Children who experience childhood trauma are often at an increased risk of dysfunctional behaviours, learning difficulties, mental illness, drug and alcohol abuse and trouble with the law, which can be carried into their adult life with the potential for abuse and neglect to be repeated in the parenting of their own children. Thanks to a three-year grant from the NAB Foundation, secured by our Trusts and Foundations team, the IRP has been able to hire a full-time Occupational Therapist to assist in their critical work.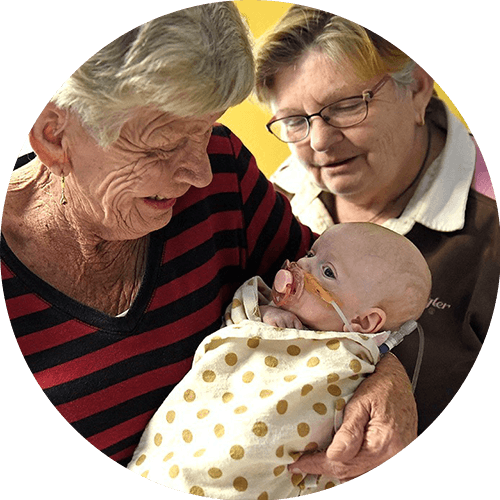 March
Research improving the lives of children: Funding research is an important way the Foundation can make a lasting impact on the health of children. Throughout the year we have funded a number of research positions across a variety of departments, including two new roles to establish the Australiasian Centre for Cystic Fibrosis Personalised Medicine which is making great strides in better diagnosis and treatment options with the hope of maybe even a cure one day. Cystic Fibrosis (CF) is the most common life-threatening genetic condition affecting Australian children with 1 in 25 parents unknowingly carry the gene for CF and one baby every four days diagnosed with CF. Currently, there is no cure and limited treatment options.
New website makes life easier: March also saw the launch of our new website. Our primary aim was to make the online experience more user friendly for our supporters. It now allows for online ticket sales and community fundraiser supporter pages as well as being fully mobile responsive. As an added bonus, many of the manual processes undertaken by staff are now automated allowing us to be a more efficient organisation, focusing on our primary task of raising significant funds to support the Sydney Children's Hospital, Randwick. The website was a leap forward in the online face of the Foundation.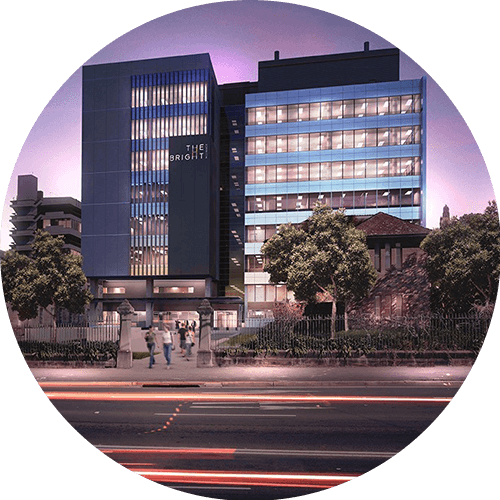 April
New building creates brighter future for child health: A dedicated area for adolescent outpatient appointments, a collaborative research hub and space for our clinical geneticists to continue their pioneering work in the field of rare diseases are just some of the key benefits The Bright Alliance will deliver for Sydney Children's Hospital, Randwick. A world-class facility bringing research and treatment together, The Bright Alliance was officially opened on 18 April.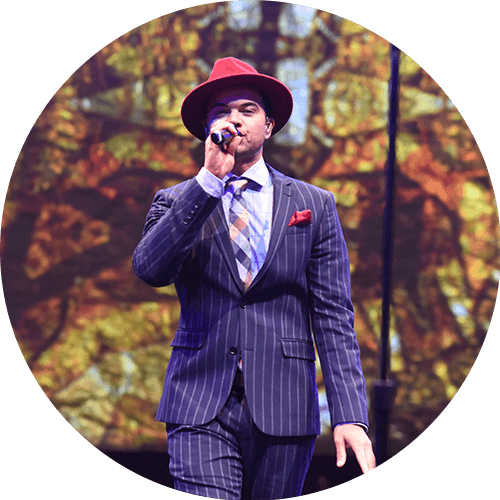 May
Hearts of gold: Gold Appeal kicked off with a bang, celebrating the 20th Annual Gold Dinner. Since its inception, under the guidance of founders Skye Leckie OAM and Lucy Turnbull, this exceptional event has contributed over $25 million to the Foundation and has become one of the highlights of the Sydney social scene. Our Pedal4Kids cyclists and Half-Marathon runners also put their bodies on the line in May to raise almost $500,000 for children and families in the Hospital.
Innovative camera to help children who need facial surgery: Thanks to a generous gift in a Will left to the Foundation, we were able to fund a new 3D camera for the Craniofacial Department to help surgeons planning facial reconstruction surgery for children. The new camera reduces and potentially avoids the need for multiple CT scans, which is associated with increased risk of radiation and tumour. It can also be difficult and traumatic for young children.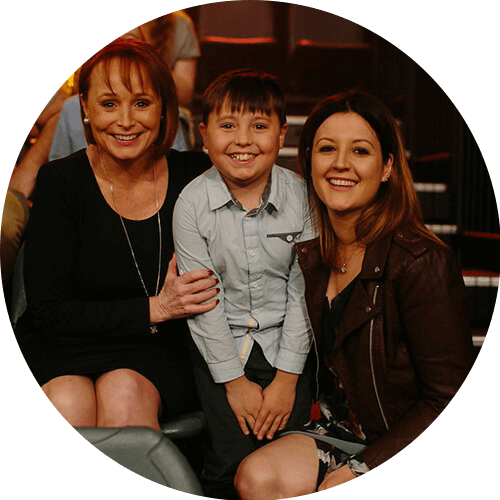 June
Golden support from the community: Gold Telethon 2017 raised just over $6 million to help the sick and injured children of NSW and beyond. This outstanding result was a culmination of community involvement, official Gold Appeal events held across Sydney and a very generous viewing public during the Channel Nine Telethon. Focusing on the moments that make childhood special, the eighth Gold Telethon enabled us to purchase life-saving medical equipment, support ground-breaking research and critical frontline services across all areas of the Hospital.
Life-saving equipment for critically ill children: Every year the team in the Intensive Care Unit (ICU) care for more than 1,000 critically ill and injured children. In June we invested in new technology, including purchasing two Ventilator systems for the ICU, made possible by two generous donations. Ventilators are essential life support machines for the care of critically ill children and each one will support at least 330 children over that time.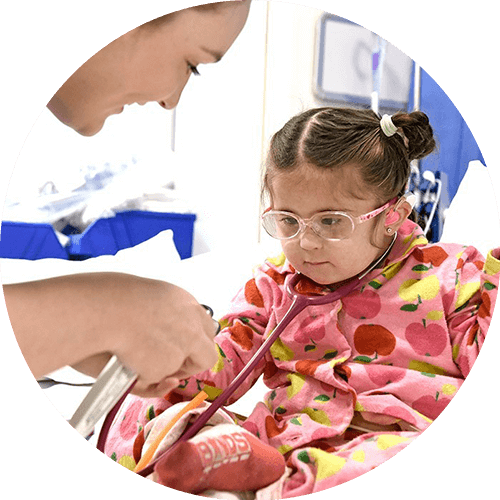 July
It's the simple things: It may interest some of you to know that not everything the Foundation funds for the Hospital is a piece of cutting-edge equipment. Sometimes our focus is simply on making life a little easier for those in the Hospital. A prime example are the Carers packs we fund for the Emergency Department. These simple packages include basic essentials, like a toothbrush, that you wouldn't think to pick up when racing a child to emergency.
Volunteers make a world of difference: July saw a number of supporters getting put to work, such as a group of volunteers from AFEX who helped to organise the Hospital toy room. Volunteers play an important role and help us in almost everything we do. From day to day activities in our office and at our community and fundraising events, volunteers help us to raise money for a cause close to their hearts. Without volunteers, we couldn't do what we do.
Helping Child Life Therapists reduce the impact of Hospital stays: Every day Child Life Therapists work with children and young people diagnosed with a variety of both short and long-term conditions. They see the impact being in hospital can have on patients and their families and work to find ways to alleviate that impact where they can. An increasing amount of research exists across the world regarding the benefits of controlled multisensory environments. In July, thanks to some In Memory donations and an endowment, a Mobile Sensory Station was purchased for use by Child Life Therapists to help them make the Hospital a safer and more comfortable place.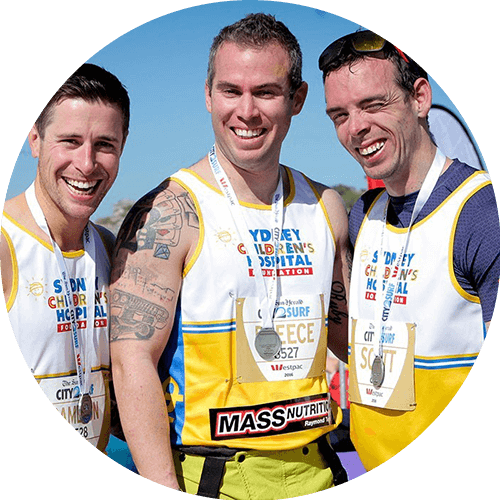 August
Getting a move on for sick kids: Team Kids brings together a wide range of people - from Hospital staff to former patients and people who care - to take part in personal challenge events every year. Across 2017 over 500 people took up the challenge and got involved in one of many physical challenge events, including a group of 291 people taking on City2Surf in August.
Art celebrating life in the Hospital corridors: Our Art Program is one of the things that makes the Hospital so special. A huge range of artworks fill the corridors with colour and creativity, it is a regular sight to see people of all ages stopping to admire the artworks. In the wards themselves, art helps to take people's minds off why they are here, even if just for a little while. Our Art Program Manager was voted a member of the NSW and ACT Leadership Group in Arts and Health, formed under the Institute for Creative Health, which oversees a national network of such groups. This appointment is an incredible acknowledgement of the importance of art in health and the role our Art Program can play outside the Hospital walls.
Guests sparkled at the annual Diamond Event: During our busy August philanthropists and business leaders came together for the annual Diamond Event raising in excess of $650,000. Pledges from The Diamond Event 2016 also saw one of the Hospitals doctors headed to Boston on a travel grant. Travel grants are a significant way that the Foundation is able to ensure Hospital staff remain at the forefront of children's health.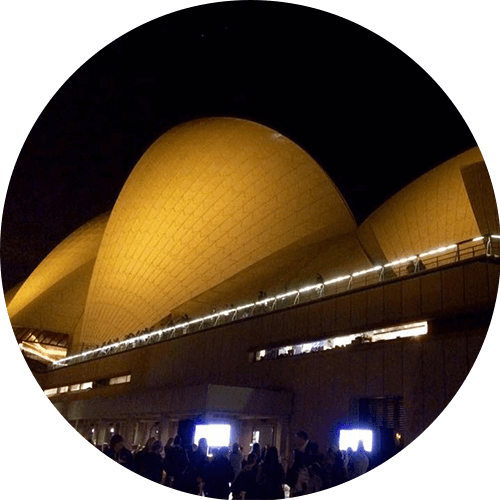 September
Commemorating Childhood Cancer Awareness month: Every year, more than 950 children and adolescents are diagnosed with cancer. To mark Childhood Cancer Awareness month we gathered with our partners for a candlelight vigil at the Sydney Opera House to honour all children diagnosed with cancer, and to highlight the importance of childhood cancer research. With 100s of families gathered down at the Quay the highlight of the evening was watching the iconic sails turn gold.
The launching of Zero Childhood Cancer program: We are a step closer to personalised medicine for childhood cancers in Australia with the launch of the Zero Childhood Cancer (ZCC) program's national clinical trial. ZCC is one of the world's most comprehensive child cancer personalised medicine studies, led by the Kids Cancer Centre at Sydney Children's Hospital, Randwick and Children's Cancer Institute. Personalised therapy, tailored to each child's particular cancer, holds the promise of one day pushing childhood cancer survival rates to 100%. The Foundation is a proud funding partner for this exciting clinical trial.
New tools for asthma response in schools: A 2014 NSW Ombudsman report, which found that 20 children died from asthma between 2004 and 2013, inspired respiratory specialists at the Hospital to create two new resources for responding to asthma attacks in schools. Partly funded by the Rotary Club of Sydney Cove – long term supporters of our Foundation – the Asthma First Aid Management in Schools eBook and the Schools and Child Services Action Plan for Asthma Flare-Up will assist teachers and school staff to better identify a flare up and act quickly to effectively manage asthma attacks.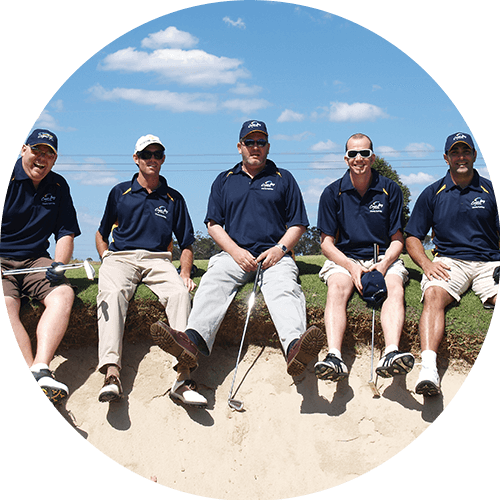 October
A new way to scan in orthopaedics: The Hospitals Orthopaedic team cares for children and adolescents with conditions affecting the musculoskeletal system, such as cerebral palsy, hip dislocations and scoliosis. Treatments for these conditions can require multiple scans for patients, a long and tiring process but thanks to Sargents Pie Foundation we funded the purchase and installation of a new, world-class EOS Imaging System that can allow for scans in children to be done in around 20 seconds.
20 years of support from Coogee Bay Hotel: We celebrated another 20th milestone in October with long-term partners Coogee Bay Hotel and their annual Golf Day, this year raising $185,000 to launch the Children's Better Health Initiative. Always a fabulous round of golf even our Chair Duncan Makeig hit the course this year to celebrate in superhero style with these superhero fundraisers. As well as providing funds to the Foundation, many patient families will stay at the Hotel thanks to the 100 nights accommodation they donate each year. This extensive partnership is a great example of what can happen when we work together with a corporate partner, playing to their strengths to support the needs of the Hospital.
A night out for a good cause: Paediatric Palliative care is helping our young patients and their families live well and make the most of every day, providing the right care and support when it is needed most. The Pain and Palliative Care Teams work goes hand in hand as often palliative care patients require specific treatment in pain management. A topic rarely discussed, especially at gala events, sunSCHine took the bold step to raise funds and awareness of the important work of these teams and had their most successful year to date raising just over $820,000. A more relaxed event, Amber Affair headed to The Ivy to celebrate mateship and to raise funds for areas of greatest need in the Hospital.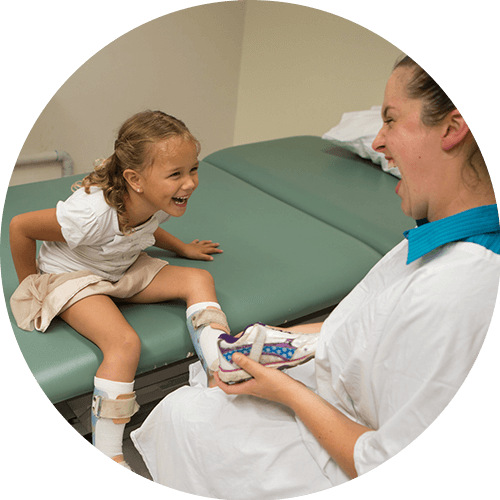 November
Vital training for Emergency Department staff: Every day, every hour, babies and children come through the Hospitals doors with different illnesses, conditions and injuries. The Emergency Department cares for over 100 children every day. Every one of those children needs the right treatment, specifically designed for them, as quickly as possible. Foundation funding supported the Hospital staff to undertake training in Safe, Reliable and Effective Care keeping the team at the top of their game.
A refurb in the General Medical Isolation Ward: Children in isolation, and their families, often need a few minutes break in fresh air. When nurses in the General Medical Isolation Ward (aka C3 West) saw that with a bit of love the balcony would provide the perfect place to do this they took it upon themselves to raise the funds by participating in the Blackmores Sydney Running Festival. The renovated balcony now provides a safe space for those in isolation to enjoy the outdoors.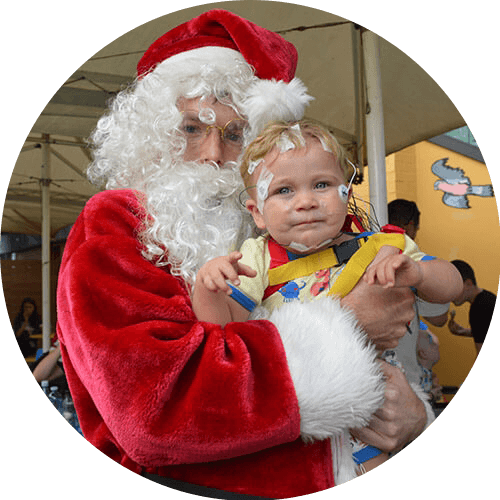 December
Festive fun at the Hospital: To close off the year the Foundation is bringing some festive fun to the Hospital thanks to corporate partners, community groups, a new art exhibition to visit (launching December 7th) and even a few famous faces appearing at the Hospital together we will brighten the days of those families spending time here rather than at home.
Final funding investments for the year: Before we wrap for the year there are still a few urgent items on the shopping list. Including the purchase of five Wizzybug powered wheelchairs for the Neuromuscular department. These racing car style powered wheelchairs can be used by children as young as 14 months, giving kids the chance begin to enjoy exploring the world indoors and out. The Wizzybug chairs are funded by a number of donors, including two pledges at the recent sunSCHine event.
These stories are just some of what happens each and every year at the Foundation, all made possible by the generous, ongoing support of our community. We wish each of you and your families a happy and safe festive season and we look forward to an exciting 2018, full of new opportunities for us to make a lasting difference in the lives of sick kids.